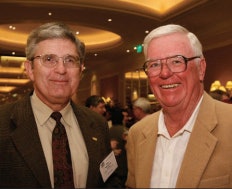 Jim Moss didn't set out to be a trailblazer.
Looking back now, Moss says he didn't set out to be a publisher, either. He planned to be a salesman like his father before him.
But as he's since learned, life doesn't always go perfectly according to plan.
Jim Moss entered the trucking industry as a fleet magazine sales representative in the 1950s. Active in the industry from the start, Moss looks back at those early years as the springboard to his eventual aftermarket career.
"I was going out and talking to a lot of truck fleets and manufacturers, but I also started meeting a lot of people who were in the trucking industry but weren't employees of either of those other groups," Moss recalls. "And I started meeting a lot of distributors of whom I was not familiar … So I went back to [my boss] and told him I had stumbled across something. A breed of parts distributors I didn't even know existed."
Those distributors, as you may have guessed, were the early members of the heavy-duty independent aftermarket.
Moss says it didn't take long once he met one distributor to meet a pile of them, and by then, he says it was clear the magazine he was working for (Commercial Carrier Journal, now a sister magazine to Truck Parts & Service) and the trucking media had a blind spot in their coverage focus.
So Moss did what any young, motivated and ambitious entrepreneur would do — he decided to produce a publication to fill it all on his own.
He'd publish his first issue of Fleet Distribution in 1966. The publication would morph into the solely aftermarket specific Heavy Duty Distribution in the early 1970s, and would undergo its final name change to Truck Parts & Service in 1987.
Nearly 60 years later, the market Moss discovered remains. And it has decided to give back.
As a thank you for his efforts founding Truck Parts & Service, helping to create the Council of Fleet Specialists (CFS) and Heavy Duty Aftermarket Week, and his decades of service in support of the independent aftermarket industry, Jim Moss has earned the 2015 President's Award by the Commercial Vehicle Solutions Network (CVSN).
The award presentation was held earlier this month at the CVSN Aftermarket Distribution Summit in Newport, R.I.
Now retired and living in Hawaii, Moss was unable to attend this month's Summit, but he says he's incredibly grateful to be presented such a prestigious award.
"I'm obviously very honored. I'm honored that people even remember my name," he says. "Recognizing me is to recognize that this industry has a past, and that there are a lot of people that helped it become what it is now."
Looking back, Moss says his decision to found the publication that would become Truck Parts & Service was a logical one. The aftermarket was a growing subsection of the trucking industry; one that demanded recognition and organization. Through Truck Parts & Service and other efforts, Moss was able to provide that.
"My position was these people were different and had different needs and skills than fleets," he says. "They were a group of people who were willing to become part of something."
Moss says that became abundantly clear around 1960 when he and a group of aftermarket professionals developed the Council of Fleet Specialists. A precursor to CVSN, CFS helped unify the independent aftermarket. Moss says that union would immediately prove valuable in support of an industry that boomed in response to the Federal Highway Act.
In the decades that followed Moss remained committed to the heavy-duty aftermarket. He added Successful Dealer to his publishing company's roster in 1978, and expanded the focus of Truck Parts & Service to include heavy-duty repair in the 1980s. He also was one of the early supporters and proponents of 'Truck Parts Week,' which eventually became industry jewel HDAW.
"Over the years you get to know a variety of people and personalities; some work to earn a paycheck while others work because it's a passion. I always respected Jim because the industry was his passion and he devoted his life to it," says Joe Mejaly, vice president and general manager at AxleTech. "People use the phrase, 'This industry is in my blood,' and for Jim you never had to question his sincerity when he uttered those words."
"[Jim] was truly committed to our industry," adds Pete Joy, vice president of sales and marketing at Phillips Industries. "Jim was not only instrumental in reporting the growth and development of the heavy-duty aftermarket, he was in his own way a leader of the process. Jim was one of the mentors that many of us relied on for judgment and input as we addressed the major issues of the day."
Moss shrugs off the compliments, humbly downplaying his impressive aftermarket career.
"We did some things, and I guess they turned out pretty good," he says.