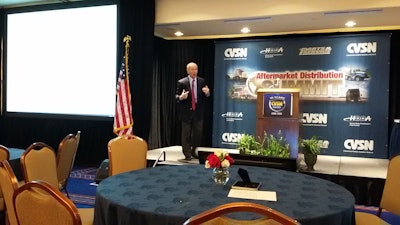 Economist Robert Genetski has heard the talk. The grand proclamations from others in his trade stating the United States' economy is on the precipice of disaster. That a collapse is imminent.
But to him, that's just the status quo.
"There has never not been a time where there were not people forecasting an imminent collapse," says Genetski. "Doomsday predictions are nothing new."
Speaking Monday at the CVSN's tenth-annual Aftermarket Distribution Summit in Newport, R.I., Genetski says he doesn't subscribe to the end is near talk.
The economic growth out of the 2008 recession has been slow — slower than previous recession responses — but that slow bounce back doesn't mean more disaster is on the horizon.
On the contrary, Genetski says there are "natural forces moving the economy upward" and good reason to believe those forces will continue to lead.
But to ensure those growth forces result in positive growth through more than just the next calendar year, Genetski says the U.S. needs to regain its economic freedom.
The United States might be the land of the free, but according to a global study produced by the Fraser Institute in Canada, it is only 16th in economic freedom.
Genetski says the U.S. was a top-three nation for economic freedom for several decades before beginning a slow descent down the Fraser rankings in the early 2000s.
"Economic freedom is the single most important force for creating prosperity and reducing poverty. So long as the U.S. policy undermines economic freedom, living standards will suffer," he says.
Genetski believes mistakes by the Federal Reserve (managing interest rates and liquidity) and the Federal government (higher taxes and superfluous welfare programs) have led to the steady drop.
"We don't focus on measures of economic freedom," Genetski says. "The top two countries in the world for economic freedom, Hong Kong and Singapore, almost view it like a contest … We don't. And I wish it was something we could do."
As a classical economist, Genetski says the best way to enable economic freedom and ultimately the economy is to motivate and incentive growth. He says production rates and hours worked to productivity ratios in the U.S. have dipped precipitously in the last 15 years. That has to change.
Genetski says the Fed and Federal government need to slowly back away, allowing for an economic environment with stable market prices and monetary policy that is conducive to private sector productivity.
And he says the government must stopped borrowing from tomorrow to buy programs for today.
"Debt is not bad when you are thinking about the future. You shouldn't go into debt to pay for a party today," he says.