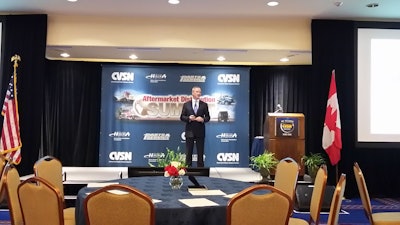 Do you compare Yelp! reviews of area restaurants before you go out to eat? Do you read the customer reviews on Amazon before you decide to purchase a gift?
If you do don't worry, you're not alone. Jeff Korhan says 57 percent of all buying decisions are made online before a customer ever communicates with a vendor.
Which means, as Korhan said during a presentation Monday at the CVSN Aftermarket Distribution Summit in Newport, R.I., there's a pretty good chance your customers are doing the same thing.
And if you aren't representing yourself where they are searching, Korhan says there's a chance you could be losing customers you didn't even know exist.
"You have to be ahead of where buyers want you to be," he says.
Korhan says the best way to step in front of those searching prospective customers is through owned media, such as websites, blogs, podcasts and newsletters.
Referred to as owned media because you have total control of its content, Korhan says this media gives you a platform to showcase the best features of your business. It allows you to build trust before a customer ever walks through the door.
And that's important, he adds, because fundamental keys to building a relationship with customers online are the same keys found in the real world: you have to know your customers, remove their buying obstacles and nurture that relationship once it's built.
He says in the online world the latter points can be done through proactive posting. Turning sales newsletters into informational mailers with product and service knowledge can build equity in your brand, as can succinct yet informative blog posts and viral videos.
Korhan says the key is showcasing a message to prospective or current customers that you'll do whatever it takes to help them.
"It's more than just listening. It's really about trying to understand what is important to them," he says. "You have to be able to communicate to customers what you are capable of; and have a way to take the customer where they want to go."