The following comes from the June 2016 issue of Truck Parts & Service. To read a digital version of the magazine, please click the image below.
To read more articles from our special issue, please check out our TPSat50 archive page.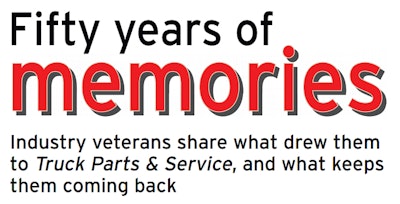 With five decades now under its belt, it's safe to say Truck Parts & Service has some long-time fans. So in honor of its golden birthday, we checked in with some of the magazine's most loyal readers and supporters and asked them what they love about Truck Parts & Service.
Ray Addison, Daimler Trucks North America
"You can't measure the impact of Truck Parts & Service on the parts and service marketplace. They capture information that is essential for anyone that is involved with parts and service. If you're not reading Truck Parts & Service, you're not in the game."
Mike Betts, Betts Company
"For years Truck Parts & Service magazine has been the leading publication for the independent aftermarket distributor and service providers when it comes to showcasing areas for continuous improvement. By highlighting industry best practices [Truck Parts & Service] has made it possible for the independent channel to look inside our businesses for improvement opportunities.
"By acknowledging distributor excellence through your Distributor of the Year recognition, you further highlight the value and importance of stepping back and looking at our businesses from a strategic perspective. Many in the industry can become entrenched in day-to-day operations and your publication allows all of us to take an important break to look inside."
Russ Bretell, Cummins Filtration
"At Fleetguard we take our work seriously, and that's in the protection of not only Cummins engines, but in all diesel engines and equipment. Truck Parts & Service has played a key role in helping us get this message across, and reaching our valued dealers and customers.
"With the ever evolving technologies, it's critical to bring the latest information to the marketplace, so congratulations to Truck Parts & Service for 50 years of support!"
Jerry Conroy, Bendix
"Congratulations Trucks Parts & Service on 50 years of making a difference. What draws me to Truck Parts & Service each month is the insight that comes through from the aftermarket distributor's perspective. The editorial team delivers the voice of the aftermarket through diverse and meaningful commentary across the complete range of relevant topics.
"Each month Truck Parts & Service provides us another resource for information that we can compare with our own interactions and experiences in order to ensure we have our focus on the right solutions that will support this very important segment of the commercial vehicle marketplace."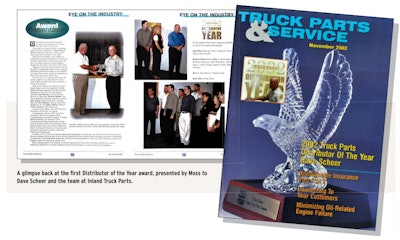 Doug Early, ProDiesel, former Truck Parts & Service national accounts manager
"I would say [my best memory] is the first Distributor of the Year award, to Dave Scheer. That was the point when we weren't just writing stories, we were giving something back to the industry. There was a lot of recognition for that. There still is."
John Flad, Bendix (retired)
"During my career leading the aftermarket sales division at Bendix I received many industry magazines. I read almost all of them, however there was a large difference with Truck Parts & Service because all of my customers read it, not just some of them. I found the content more down to earth and usable than that of other industry publications.
"From a customer point of view the editorial consistently drove good discussions because I knew the leaders I was speaking to would have read the articles, and always would have an opinion on them. By the same token, when being interviewed for an article by the Truck Parts & Service editors, I always took the time to be better prepared because I knew everyone would read it.
"Thanks, Truck Parts & Service team, as you celebrate 50 years of outstanding contributions to our industry."
Dan Flight, Dana Holding Corporation
"Happy golden anniversary Truck Parts & Service. During my close to 40 years in the truck business I have seen many, many aftermarket publications come and go. Yet Truck Parts & Service has endured and is, in fact, aging quite nicely.
"Your Distributor of the Year coverage is an annual must-read. The insights, strategies and business practices that these outstanding businesses share with your readers is superbly delivered. Anyone seriously interested in an aftermarket career in the truck business is sure to benefit from your coverage. "Keep up the good work."
Bill Fouch, Eaton

"Eaton wants to congratulate everyone associated with Truck Parts & Service on 50 years of serving the commercial vehicle industry, and we are anxious to see what the next 50 years have to offer."
Steve Hansen, Minimizer
"Truck Parts & Service is the go-to magazine in the industry. When you built a reputable presence for 50 years, it's easy to understand why people choose to get their reliable and up-to-date information from Truck Parts & Service.
"I personally read the online version every single day. The format works well with my busy schedule. I'm able to read a snippet of each article and I can choose to read the articles that pertain to my business."
Marty Hetherington, Meritor
"Working with Truck Parts & Service has been a real partnership for Meritor. We have developed a working relationship that has greatly benefited our marketing direction, as well as allowing us to get even closer to our customer base and their point-of-view on many subjects and new product launch directions. Happy birthday Truck Parts & Service!"
Robert Johnson, Bendix
"I can't remember if there was an entire edition dedicated to telematics but the few articles you've published regarding telematics have been timely and extremely informative. As the industry embraces telematics, the aftermarket is sure to change and enhance services, parts availability and uptime.
"Truck Parts & Service also provides a great service to the aftermarket industry by recognizing independent aftermarket distributors who are among the best of the best. The Distributor of the Year award helps the industry identify and share the best practices that these market leaders have incorporated into their operations."
Marc Karon, Total Truck Parts
"My most memorable article is the one when Jim Moss wrote about our company for the Distributor of the Year award (July 2005). He talked about us 'rising out of the ashes.' Another memorable issue was the October 2007 issue 'Under the Hood Maintenance and Repair Horror Stories.' And another story I liked was the March 2008 issue that had, for the first time, a good article on the Right to Repair issue.
"There were always two things I read as soon as I got the new issues of the magazine. There was Jim Moss's viewpoint on some issue in our industry and there was always an article written by some distributor in the industry about the industry. I do miss the latter, but you have picked up where Jim left off on his article."
Randy Luthe, Six Robblees'
"I have been reading the magazine for a long time (not 50 years) and I remember the first time I read a copy and saying to myself, 'Hey this is good. It's all about our industry.'
"I do not remember a specific issue but I have very much enjoyed all the articles on the Distributor of the Years. I like learning what make these winners tick!"
Keith McLemore, Stone Truck Parts
"The thing that comes to my mind was the Distributor of the Year articles and profiles. I only became a reader around 2003 when Don [Purcell] and I first got into business. The Distributor of the Year articles and profiles allowed me to learn about the players in the industry and how their businesses evolved and what made each of them unique.
"It never occurred to me then that one day we would be the subject of one of those articles when we were a Distributor of the Year finalist and ultimately a winner."
Wayne Powell, Reyco Granning (retired)

"There's a certain glamour associated with shiny new trucks and trailers rolling down the highway. But underneath, there's the grit and grime of maintenance and repairs necessary to keep those trucks rolling for millions of miles. Sometimes, the seemingly mundane tasks of keeping parts on the shelf and people trained in how to use and install them gets pushed to the background.

"What I've enjoyed about Truck Parts & Service is the way they bring the role of parts and service to the foreground, putting the aftermarket front and center. That not only raises the level of knowledge and professionalism in our industry, it makes us feel proud of the important role we play in the larger world of commercial transportation.

"So, congratulations to Truck Parts & Service for 50 years of being a voice, a mentor and a leader for all of us in the heavy-duty aftermarket."
Don Purcell, Stone Truck Parts
"You know in looking back with my years of reading Truck Parts & Service I can honestly say trying to come up with one memorable moment is really difficult for me. As I guess I've taken it for granted, but always valued all the information provided! There has been so much valued industry/manufacturer information shared in current and past articles that I feel really contributed to Stone Truck Parts' past and present market awareness.
"[Truck Parts & Service] is the one industry leader for the heavy-duty aftermarket."
Paul Raymond, Parts for Trucks
"For us the September 2003 issue is the highlight. Parts for Trucks was featured as a finalist for the Distributor of the Year. This I believe was just the second year for this event and we were very flattered to be selected. Jim Moss made a visit to gather notes and take some photos (with a real camera, no cell phones with cameras back then!). We were familiar with Jim, but spending a full day and supper that evening together gave us a good chance to know him better. We had some great chats about the business and the industry in general.
"Denise Rondini gathered all of Jim's notes and composed the article. We thought the article was great and a good reflection of our business. We still have many copies and are proud to show them to anyone with interest in our company.
"Congratulations on 50 years. In the publishing world, that's a significant milestone."
Don Reimondo, HDA Truck Pride
"Over the years Truck Parts & Service's recognition of the Distributor of the Year candidates have been my favorite issues. Highlighting the very people that make this industry what it is and how their businesses [have] evolved have been fascinating to me."
Jason Rhoads, Minimizer, former Truck Parts & Service national accounts manager
"Truck Parts & Service has not only covered the aftermarket industry but it belongs to the aftermarket industry. Not many titles can relate to that. Especially as everyone knows this industry has changed tremendously and continues to change.
"I have enjoyed working with Truck Parts & Service as an employee, and now as an advertising supporter. We look forward to the coverage you make possible for the next 50 years."
Andy Robblee, Six Robblees'
"The quick answer is I remember the ones that featured Six Robblees', Inc. I've looked in my archives and found three older issues my dad had saved. The first two are Heavy Duty Distribution (March 1976, March 1984) and a Truck Parts & Service from November 1989.
"As for the recent publications, I also loved the 2009 and 2014 articles I got to help with as Six Robblees' was a nominee for Distributor of the Year. Another one that stands out that I remember was the 2013 Thanksgiving issue titled, 'What are you thankful for?' That was our 100th year and the number of blessings for which we were/are thankful for are too numerous to count!"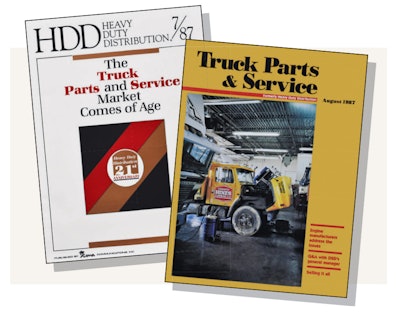 Denise Rondini,  Rondini Communications, former Truck Parts & Service editor
"One of the issues I remember most was when the buying groups—now called marketing groups—first hit the scene. It was pretty controversial.
"I also think the first Distributor of the Year was a big deal, as was the change in the magazine's name from Heavy Duty Distribution to Truck Parts & Service. It reflected the increasing importance of service in the aftermarket."
Dave Scheer, Inland Truck Parts
"I can't acknowledge any single issue of Truck Parts & Service as better although there were many good ones along the way. I can say Jim [Moss] was a good friend, a tireless advocate of the independent aftermarket, and shared his knowledge and wisdom freely. We regularly discussed the marketplace and the various dynamics that caused it to grow and change.
"The creation of the Distributor of the Year is just one example of his impact on our industry. I'm proud to say that Inland Truck Parts was the first Distributor of the Year."