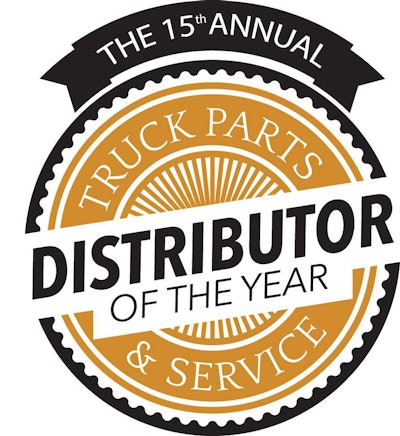 It's only Tuesday and this week is already agonizing.
Why, you ask?
Because this is Distributor of the Year decision week for Truck Parts & Service. This is the week my stomach is perpetually in knots as I wrestle with the decision of who should be named the 15th Truck Parts & Service Distributor of the Year at Heavy Duty Aftermarket Week (HDAW) next month in Las Vegas.
Admittedly, the decision isn't solely my responsibility. I have colleagues who weigh in on the decision, and together we scour the résumés of our five candidates and try to sort out who is most worthy of the honor. That committee setting helps, because it allows me to get a reading on how other people view the candidates. It helps to see how others perceive the title of 'Distributor of the Year,' and the qualities they look for in a candidate in winning the award.
But, ultimately, the final decision is mine.
And in a year like this one, where our committee collectively agreed that, "yeah, we still can't choose just one," that brings me back to square one.
Hence the knots.
It wasn't always this way. My first year managing the Distributor of the Year program we held a closed vote among a select group of suppliers. It took the pressure off me as a first-ever program manager, which helped, but it wasn't optimal.
For one thing, it's never a great idea to hold a mail-in vote with suppliers. Too many people travel regularly, and snail mail doesn't reach its destination in time. There's also the holidays aspect. People take time off in December.
Then there's the thought that goes, or should go, into the decision. There are only a handful of people involved in our decision-making process now, but we're fully invested. This decision is a time commitment for us.
I think that's what this award deserves.
Which isn't to say our supplier voters didn't put thought into their decision. I trust they did. But I feel more comfortable with a group of my colleagues battling ourselves over this decision than a blind vote with moderate participation.
So, we'll trudge on as is. I'm good with that. And I know that sometime between now and Friday I'll figure this thing out. I'll decide which of our five wonderfully excellent candidates—Action Truck Parts, Blaine Brothers, Harman Heavy Vehicle Specialists, Long Island Truck Parts and Weldon Parts—is most deserving of the Distributor of the Year award. Then I'll confirm my decision with my team and we'll move forward. We'll get this thing done.
But in the meantime, oh the anxiety.