I don't know about you, but I love digging through numbers.
Uncovering trends in data and attempting to use statistics to determine future performance, to me, is riveting. And judging by the number of one-week fantasy football league commercials that have inundated our lives the past month, I have a feeling I'm not alone.
But as much as number crunching has become part of our sports fandom, finding joy in data analysis isn't just something you can get from football.
There's plenty of data available in our industry, too.
This month's Truck Parts & Service cover story focuses on the portion of this data that comes from CSA inspections.
Since its implementation in 2010, there have been more than 15 million CSA vehicle inspections on American roadways. These inspections have resulted in more than 25 million total violations, 70 percent of which have fallen under CSA's Vehicle Maintenance BASIC.
That's nearly 17 million broken parts.
With help from RigDig Business Intelligence, I spent time researching the data from all of those violations for October's cover story and found a few odd trends. Without spoiling that article, I can tell you that while some of the data found within CSA's inspection results are obvious—Texas and California inspect the most trucks; lights and brakes are the most common problems—not all of CSA's inspection data falls perfectly within our common assumptions.
If you're willing to take the time to dig deep into the numbers, there's enlightening data in there. Data you can use to better sell in your market.
A few examples: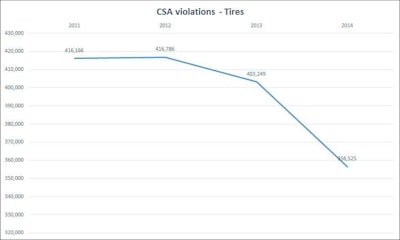 Fleets know tires better than wheels.
I found this odd. After a miniscule increase from 2011 to 2012, tire violations have dipped by more than 60,000 incidences over the last two years. Tire violations remain a serious issue nationwide (this is addressed in our upcoming cover story) but it's clear by the 17 percent reduction over the last two years that fleets are at least aware of their problem, and are trying to fix it.
The same cannot be said for wheel end issues.
Wheel end violations (studs, clamps, etc.) were up 231 percent last year over 2011 totals during the first full year of CSA inspections. And that rise wasn't sudden. Wheel violations have jumped up by at least 24 percent each year, with last year totaling 67,004 violations.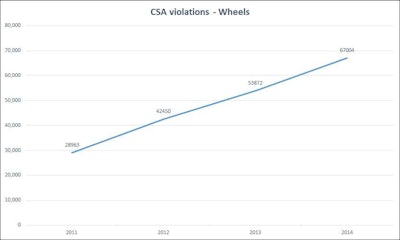 Whether these violations are the result of service mistakes or parts failures would require more research, but to me it is clear that vehicle owners are not monitoring wheel performance like they are tires.
I believe parts and service providers with wheel end expertise could better monitor both areas.
It appears inspectors make New Year's Resolutions.
November and December have been the weakest inspection months during every year of the CSA program. From 2011 to 2014 inspectors averaged more than 111,000 nationwide inspections per month in January through October, but just 91,281 per month in November and December.
That's a 22 percent reduction, and it's been like this for years. November 2011 is the only time CSA inspections have surpassed 100,000 in one of the final two months of the year.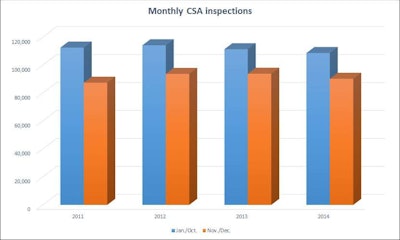 With the amount of retail freight that's hauled during those months I find these numbers astounding. Especially when synced up with the immediate ramp of inspections every January. The average number of December inspections from 2011 to 2014 was 87,104; the average numbers for January of those same years was 111,252. That's a 27 percent increase.
To me, this shows a major end-of-year sales opportunity for aftermarket businesses.
I don't know if inspections fall off in November/December due to holidays (and no inspectors on duty) or an intentional pullback from states to make sure everyone's last-minute gifts get to Granny on time, but whatever it is, it doesn't last after January 1.
I think parts sales that cater to a customer or market's most common CSA issues in December would be a great way to keep customers from being victims of the inspection deluge that comes with every new calendar year.