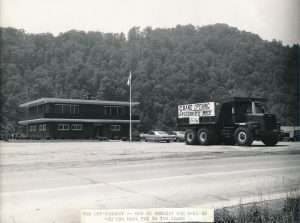 This year marks the 50th anniversary for Worldwide Equipment, a full-service truck dealer group spanning across the eastern United States.
Worldwide Equipment originated as Eastern Kentucky Mack on January 16, 1967 in Prestonsburg, Ky. Shortly after, Eastern Kentucky Mack acquired Mid-South Mack, Bluefield Mack, and Mountain State Mack, becoming known as Mack's Big Four in 1972.
In 1975, operations in Jane Lew, W.V., were acquired and Mack's Big Four was transformed into Worldwide Equipment, Inc. The name "Worldwide Equipment" was created, not because of equipment sales worldwide, but rather to emphasize the first letters of each word to form WE. WE wanted to emphasize its true definition: a group of people that includes me. WE strives to instill a sense of belonging and togetherness among all individuals associated with the business, the company says.
From 1975, Worldwide Equipment only continued to grow operations. During the 1980's, dealerships were established in Huntington, W.V., and Lexington, Ky. By the end of the 1990's, locations had settled in Abingdon, Va., Cincinnati, Ohio, Somerset, Ky., Chattanooga and Knoxville, Tenn. Since the 2000's, WE has added dealerships in West Virginia (Charleston, Cross Lanes, and White Sulphur Springs), South Carolina (Columbia, Greenville, and Charleston), and Louisa, Ky. Additionally, Worldwide Equipment has expanded operations to include an International Bus dealership in Cross Lanes, W.V.
"WE are proud to celebrate this milestone and WE extend our gratitude to our employees and customers who have made the past 50 years possible," says Chief Operations Officer Scott Blevins. "WE will continue our business with the belief that there are no limits outside of our thoughts, dreams, and desires. As WE reflect on the past 50 years, WE wish to recognize all that our employees have achieved and plan to continue to build on our foundation based upon the people of WE."