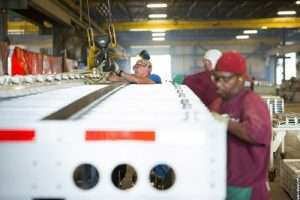 Wabash National Corporation announced Tuesday it has received certification renewal from ISO 9001:2008 to ISO 9001:2015 at its Cadiz, Ky., operation, which manufactures Transcraft and Benson brand flatbed and drop deck trailers.
"Quality and continuous improvement are two of our core values at Wabash National," says Dustin Smith, senior vice president and general manager, Commercial Trailer Products. "Achieving recertification to ISO 9001:2015 registration reflects our commitment to upholding world-class quality standards in our manufacturing operations. I am extremely proud of the entire team for their commitment to our ongoing quality initiatives."
The ISO 9001:2015 standard, published by the International Organization for Standardization, is an international reference for quality management requirements and continuous improvement of business-to-business interactions. Wabash National says it provides guidance and tools for organizations that want to ensure their products and services consistently meet customers' requirements. The standard is based on a number of quality management principles, including a strong customer focus and a process of continuous improvement.
The Cadiz operation earned ISO 9001:2008 registration in 2014. ISO 9001:2015 is the most relevant certification to date, replacing the previous ISO 9001:2008 standards. Wabash National says it has had ISO 9001:2008 certification at its Lafayette, Ind., operations since 2012. The certificate can be renewed every three years following a formal third-party audit.