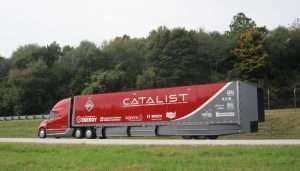 PPG has been chosen as the paint supplier by Navistar for its entry in the Department of Energy (DOE) SuperTruck program.
PPG says Navistar's CatalIST was named for serving as the catalyst for significant improvements in future commercial trucks, with -IST standing for International SuperTruck, the truck's brand—exceeded DOE expectations on multiple fronts. The truck also impressed DOE personnel with its bold, advanced PPG paint job.
The SuperTruck program, a federal initiative for developing cost-effective technologies to dramatically increase the freight efficiency of tomorrow's Class 8 trucks, has produced a model that has already had an impact on the future of the trucking industry.
According to PPG, Navistar turned to PPG and Gerber Collision and Glass of Grand Rapids, Mich., for the SuperTruck's high-tech, forward-looking appearance. PPG training center manager Jamie Redd, Gerber fleet manager Fred Honoré II, painters Chris Mayernick and Chris "Storm Trooper" Moore, and body lead Jim Berens worked under a tight deadline to bring it all together.
The truck's topcoat scheme features DELFLEET Evolution paint system orange tricoat in FBC with F3921 clearcoat. The gray on the trailer—FBC with a flattened F3921 clear—was painted to match the flattened gray film on the skirts, the company says.
"This was a fantastic accomplishment with a quick, demanding turnaround," says J.J. Wirth, commercial coatings brand manager for PPG. "There was a lot riding on CatalIST, and its finish had to be as exceptional and innovative as the technology driving it."