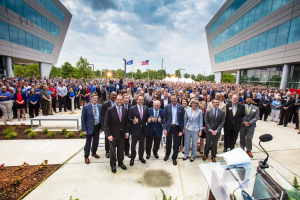 Valvoline has opened its new $35 million, 162,400-sq.-ft. world headquarters in Lexington, Ky.
"Today is a great day for Valvoline," says CEO Sam Mitchell. "We officially dedicated our new headquarters, an amazing building that reflects our brand and our collaborative, innovative culture. But perhaps more important, it reflects our ongoing commitment to Kentucky and the communities we serve. We're proud to call Lexington home."
Valvoline has been headquartered in Lexington for more than 30 years. The company recently spun off from Ashland Global Holdings Inc. to become the latest standalone global company based in Fayette County.
Valvoline employs about 5,500 people worldwide, with about 1,100 in Kentucky, in a variety of skilled, growth-oriented careers ranging from Valvoline Instant Oil Change technicians to corporate business professionals and supply chain specialists to research scientists and engineers.
"Kentucky is a premier location in America for corporate investment, and Valvoline's decision to locate their world headquarters here stands as further proof of that," says Kentucky Gov. Matt Bevin. "This state-of-the-art building, as well as the employees it houses, will be a tremendous asset to the commonwealth. We are grateful for this significant vote of confidence. We look forward to continuing our partnership with Valvoline as Kentucky further establishes itself as the engineering and manufacturing center of excellence in the United States."
Built with sustainability and the company's "Never Idle" culture in mind, the new Valvoline headquarters features a modern, open floorplan designed for collaboration; abundant natural light; and prominent space to showcase Valvoline's history and heritage as well as its vision for the future. The company says construction began in November 2015 with project development by Verus Partners, design by Solomon Cordell Buenz and general contractor work by Messer Construction Co.