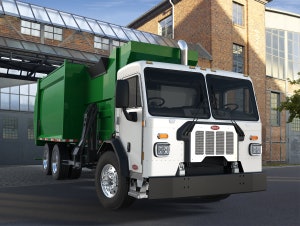 Peterbilt is introducing a wide selection of new options to its Model 520 this week at the WasteExpo. The new options include three new cab configurations and an advanced battery-electric drive system.
Peterbilt says the new cab configurations for the Model 520 include Left-Hand Drive, Right-Hand Drive and Right-Hand Stand-Up Drive in addition to its existing Dual Seated Drive configuration.
Peterbilt introduced the Model 520 in the Dual Seated Drive configuration in 2016 providing drivers the ability to operate the vehicle from either the left or right position to optimize ergonomics, efficiency and safety. The company says the Left-Hand Drive and Right-Hand Drive configurations provide a comfortable seated driving position while in transit or performing curbside operations. The redesigned Right-Hand Stand-Up cab configuration provides ease of ingress/egress for those applications that require the driver to exit the cab multiple times during the route reducing driver fatigue.
Driver ergonomics are further enhanced by standard adjustable seat, angled steering wheel and dead-pedal to rest their left foot during operation, the company says.
"The Model 520 provides superior performance and adaptability in rugged operating environments," says Robert Woodall, assistant general manager of Sales and Marketing. "Offering a full lineup of cab configurations for the refuse market further enhances the versatility of this vocational vehicle for our customers' operations."
Additionally, Peterbilt is introducing the Model 520 with an advanced battery-electric drive system this week.
"Peterbilt is working closely with its partners to explore the capabilities and performance of battery-electric drive systems." says Scott Newhouse, Peterbilt chief engineer. "Customers in urban environments and applications such as drayage and refuse collection stand to benefit from the zero-emissions performance of these advanced vehicles."
The Peterbilt Model 520 on display is equipped with the Transpower ElecTruck drive system, which has accumulated over 80,000 miles of Class 8 heavy-duty use in a variety of commercial applications since 2013. Peterbilt says the ElecTruck system uses high-power electric motors, inverters and batteries to power commercial trucks weighing as much as 80,000 lb.
"Powering heavy refuse trucks is a logical next step in the adaptation of our electric drive technology to vehicles requiring conversion to zero-emission operation," says Joshua Goldman, TransPower's vice president of Business Development.
The variant of the TransPower ElecTruck system developed for the Model 520 refuse truck uses a 300 kilowatt-hour battery pack to enable an urban refuse truck to operate for up to 65 miles or eight hours on a single charge. The ElecTruck system also features a 70 kilowatt onboard battery charger that can fully charge the truck's lithium-ion battery pack in two-four hours, the company says.