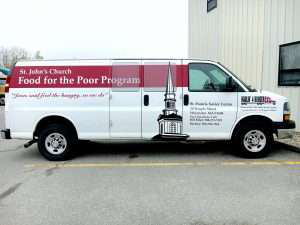 Tri State Truck Center is once again doing their part to take care of those in need in their local community of Worcester, Mass.
Tri State is donating a delivery van to the St. John's Food for the Poor Program, which serves more than 500 meals each day.
Kevin Holmes, founder and CEO of Tri State Truck Center first met Bill Riley, the supervisor of St. John's Food for the Poor Program, through Tri State's annual philanthropic program, Haulin 4 Hunger.
Each holiday season instead of giving customer gifts, the Tri State team gives back to the local community through their rapidly growing Haulin 4 Hunger Program.
In 2016, Tri State delivered 2,500 fresh meals to the Worcester community with the support of their loyal customers, employees and co-sponsors: SelecTrucks of New England (Shrewsbury, Mass.), Flynn's Truck Plaza (Shrewsbury, Mass.), Al's Oil (Shrewsbury, Mass.), Regency Transportation (Franklin, Mass.), and JW Consultants (Melrose, Mass.).
Together, employees and sponsors personally delivered grocery totes of fresh food to six local organizations in the Worcester area, including St. Anne's, Veterans Inc., South Worcester Neighborhood Center, Jeremiah's Inn, the Mustard Seed and St. John's Food for the Poor.
It is through these yearly and growing donations that the Tri State Team has developed a close partnership with St. John's, specifically Bill Riley. During a discussion between Holmes and Riley the subject of basic logistics came up, the pickup and delivery of a wide variety of food in numerous locations, which is served to the community by a dedicated group of volunteers.
Holmes shared the conversation with his team and sponsors back at Tri State. It was determined that a parts van was being retired from Tri State's daily delivery fleet after which the van could be made available to Riley as part of the Haulin 4 Hunger Partnership.
The two organizations worked together to develop a van wrap that would increase awareness and build a call to action for the St. John's Food for the Poor Program.  Tri State's Haulin 4 Hunger Program will be expanding in 2017 offering sponsorship opportunities on the rear of the van, continuing to increase the overall outreach to feed those in need in the greater Worcester area. Through the donation of the delivery van, St. John's Food for the Poor Program can extend their efforts and pick up more donations throughout the community.
Holmes says the company is honored and proud to stand by an organization such as St. John's Food for the Poor Program.
"At Tri State, the goal is to get you on the road and keep you on the road; now the same can be said for the St. John's Food the Poor Program."