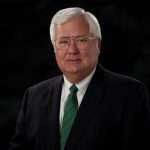 The Alabama Trucking Association has presented Ward International Trucks President Bill Ward of Mobile, Ala., with its 2017 H. Chester Webb Award for outstanding service to the state's trucking industry and beyond.
The group announced the honor at its annual meeting held April 20-22 at the Hilton Sandestin Beach Golf and Spa Resort in Destin, Fla.
The group says Ward has dedicated himself and his dealership's resources to the association's various committees, events and initiatives for decades. Many of his 120 employees are also active with the association's Safety and Maintenance Management Council, a subgroup of ATA focused on promoting industry safety and best practices, volunteering countless hours and resources to the council's many safety campaigns, including its safety awards program and highway safety initiatives such as roadside truck safety inspections and public awareness campaigns such as Share The Road.
In 2010, the association elected him vice chairman with responsibilities that included spearheading fundraising and planning efforts for the group's 2010 convention. That effort began a seven-year term as an ATA officer, including serving as chairman of the board in 2011. Since then, he has remained involved as Policy and Finance Committee Chairman, a member of the ATA Nominating Committee, and as a member-at-large for the Policy and Finance Committee.
ATA President and CEO Frank Filgo says Ward is without question one of the Association's most trusted leaders.
"There is no one better qualified to receive this honor than Bill Ward," he says. "He is among our association's most dedicated and loyal leaders. He sees the big picture for our industry, is willing to serve however he can, even when there's no benefit for himself or his business, and he is a vital advocate when we need to build coalitions to get things done, especially in south Alabama, along the I-10 corridor."
Last year's Webb winner, Tom McLeod of McLeod Software, introduced Ward at a ceremony during ATA's annual meeting, noting that Ward has dedicated his entire adult life to serving truckers.
"He supports this association, his industry, and his community in so many ways," McLeod says. "He's a humble servant to an industry that supports each and every one of us."