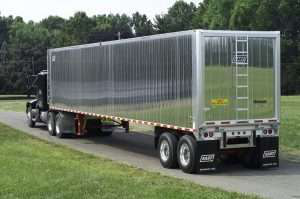 East Manufacturing introduces its new Lightweight Tipper Trailer, which is designed to maximize payload and still provide the strength to handle the stresses of hauling refuse day in and day out in the harshest conditions.
As part of its continuous improvement and commitment to increase value to its customer, East says it has reengineered the Tipper trailer to increase payload by removing 1,200 lb. of excess weight. With this new Lightweight Trailer, East has removed excess weight in the fifth wheel plate area, from the suspension sub frame and from the sides of the trailer body. In addition, East says it substituted an aluminum bumper assembly to replace its steel assembly.
"East continues to strive to be the industry leader in innovation," says East President Dave de Poincy. "Supplying our customers with this new Lightweight Tipper Trailer helps fulfill our mission to provide optimum payload to our customers."
According to East, the new Lightweight Tipper trailer still maintains its double-wall construction on its aerodynamic East Genesis smooth-sided design with the advanced system of floor-to-wall attachment. The more aerodynamic design is easier to clean, and will not show any pings and dings on the outside like traditional external post walls. And, the outboard Genesis design provides more capacity than traditional external post trailers, the company says.
Stronger Side Walls
Genesis aerodynamic design has unique a 2-in.-thick, double-wall extruded aluminum panels, which East says are lighter weight than competitive walls and provide eight times more wall support than external posts positioned every 25 in. The patented double-wall panels are robotically welded vertically inside and out for superior strength. East says the design resists bowing, reduces corrosion from road salt and decreases maintenance and repair costs in addition to protecting the outer walls from dents to improve resale value.
Advanced Wall-to-Floor Construction
East says the advanced wall-to-floor construction secures the critical point for trailer strength – the welded union of cross members, floor plates and sidewalls. For a super strong floor-to-wall attachment joint, cross members and floor plates interlock into the bottom rub rail, forming a pocket to accept the sidewall panels.
Additionally, the East Tipper trailer is offered with value-added features, including:
Landing gear that features extra-wide wing brackets, reversed-mount legs and diagonal support braces with C-channel cross members to withstand frequent shocks.
Side-swing, over slung, center-split, airflow and leak-resistant tailgate options.
Plug-together wire harness eliminates all junction boxes and includes 10-year warranty.
Stainless steel banded fifth-wheel assembly, designed for maximum load-bearing strength. Standard East "Elite" wheel-end parts, warranted for five years or 350,000 miles.