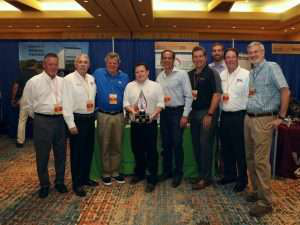 Utility Trailer Manufacturing Company was awarded the Pressure Systems International (PSI) 2016 "ATHENA" Award for Excellence during the company's International Dealer and Parts Show last month in Chandler, Ariz. This is the eighth time Utility Trailer has earned the recognition.
PSI says Utility Trailer was chosen as the recipient again this year recognizing the trailer OEM's exceptional support for the Meritor Tire Inflation System (MTIS) by PSI with the ThermALERT option, as well as its overall OEM customer excellence.
PSI and Meritor are very proud of the long-standing relationship with Utility Trailer and their endorsement of the MTIS by PSI automatic tire inflation system. Utility Trailer Manufacturing Company executives receiving the award included Hal Bennett, president; Stephen Bennett, vice president; Gareth Macklam, director of purchasing; and Mike Moore, director aftermarket parts.
PSI's patented ThermALERT option is the only wheel end heat sensor that is part of an automatic tire inflation system (ATIS), warns drivers of potential catastrophic excessive wheel end heat. PSI says it has been standard on ATIS-outfitted Utility trailers since it was introduced to the commercial vehicle industry by PSI in 2006.