Spartan Specialty Vehicles, a business unit of Spartan Motors, Inc., on Tuesday celebrated the grand opening of its new, flexible manufacturing facility in Charlotte, Mich.
The ceremony featured a tour of the facility and the plant's production of the all-new 2018 Isuzu FTR Class 6 medium-duty truck, designed to optimize fuel efficiency and maximize cargo space in order to serve the growing urban and last-mile delivery segments. The F-Series truck represents an expanded alliance with Isuzu, as Spartan has been manufacturing the smaller Isuzu N-Series truck from a dedicated facility in Charlotte since 2011. In fact, Spartan produced its 40,000th Isuzu N-Series this year.
"At Spartan, our core competencies are reflected through contract manufacturing and investment in the local communities; and today's ceremony represented that," says Daryl Adams, president and CEO, Spartan Motors. "We are happy to have had the opportunity to celebrate our expanded alliance with Isuzu, which will bring more than 100 new jobs to the region, and recognize the great work our employees are doing to help improve efficiency for our customers."
Spartan says the new, 85,000-sq.-ft. assembly plant represents a $6.5 million investment to the local community, and will bring nearly 100 jobs to Spartan Motors and the region.
"The event today was a great opportunity to showcase the skilled workforce at this state-of-the-art facility, as they have done a remarkable job assembling high-quality trucks that support the growing last mile delivery infrastructure," adds Steve Guillaume, president, Spartan Specialty Vehicles.
Isuzu hits milestone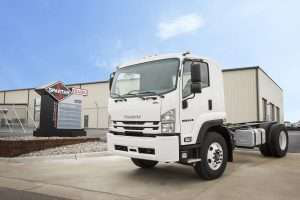 Isuzu says its 40,000th N-Series rolled off the line in Charlotte on June 8, 2017.
"From April 2015 to June 2016—a span of 15 months—we went from 20,000 to 30,000 gas-powered Isuzu trucks produced in Charlotte," says Shaun Skinner, president of Isuzu Commercial Truck of America. "Now, only twelve months later, another 10,000 N-Series gas trucks have been built. That's a testament to the increasing popularity and growing reputation of our gasoline engine, low-cab-forward trucks."
Isuzu N-Series gas trucks are powered by a Vortec 6.0-liter small-block V8 engine that produces 297 horsepower at 4,300 rpm and generates 372 lbs.-ft. of torque at 4,000 rpm. The powerplant is mated to a six-speed automatic transmission with double overdrive and lock-up torque converter for enhanced fuel economy and performance, Isuzu says.