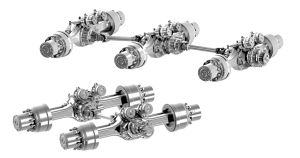 Marmon-Herrington has released a new 90,000 lb. Sisu tandem axle set and a new 136,000 lb. Sisu tridem axle set.
Both introduced Tuesday, these new releases are double reduction planetary drive axles for heavy-duty applications within the North American truck market. For approved applications, the tandem axle offers a maximum GCWR (gross combination weight rating) of 400,000 lb. and the tridem axle offers a maximum GCWR of 600,000 lb. Marmon-Herrington says Sisu Axles also has increased maximum approved ratings for its industry standard 70,000 lb. tandem axle set to 400,000 lb. GCWR, and 600,000 lb. GCWR for its 106,000 lb. tridem axle set.
Marmon-Herrington and key customers within mining, heavy haul, and oil and gas are working to release truck configurations with Sisu's new 90,000 lb. tandem and 136,000 lb. tridem offerings, the company says. The Sisu 70,000 lb. tandem and 106,000 lb. tridem are currently available through many truck manufacturers and part of Marmon-Herrington's industry first Rapid Response program, a program that allows Marmon-Herrington to deliver its most popular product configurations to customers in 30 days or less.
"We are pleased to offer these new products to satisfy the needs of our loyal mining, heavy haul, and oil & gas fleet users," says Rick Blair, Marmon-Herrington OEM president. "Sisu products have long been known for reliability and strength. The new 90K tandem and 136K tridem allows Marmon-Herrington to continue a tradition of offering industry-best products to our customers."
"We care about our customers and listen to their needs. We're constantly striving and adapting to provide product solutions that meet the ever-changing needs in each of their industries," adds Dan Souhan, Marmon-Herrington director of Sales and Marketing, "These new offerings exceed the ratings of other product currently on the market. The 600,000 lb. GCW rating for both the 106K and 136K tridem sets a new standard for high speed, double reduction planetary axles."
Marmon-Herrington says production of these highly anticipated new offerings has already begun and product will be available to ship in the second quarter of 2017. Sisu Axles, Inc. has been supplying similar 90,000 lb. tandem and 136,000 lb. tridem axles for years to customers outside of the United States and Canada.