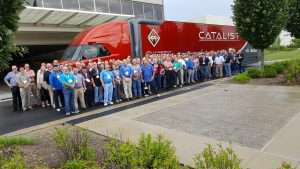 Idealease, Inc. recently held its 23rd annual Best Practices in Maintenance and Service Meeting at the Westin O'Hare Hotel in Chicago.
The event drew more than 250 Idealease commercial truck management and service professionals, representatives from Navistar, Inc., the maker of International Trucks, and numerous Idealease preferred suppliers. In addition to 25 educational sessions, attendees toured the headquarters of Navistar, Inc., in Lisle, Ill., and the company's Melrose Park engine assembly plant, as well as the Hendrickson Suspension R&D facility in Woodridge.
The annual Best Practices Meeting has become the cornerstone of building the Expertise and Responsiveness of Idealease, the company says.
"Idealease is committed to providing superior vehicle uptime and service efficiency to our customers so they can serve their own customers even better," says Dan Murphy, Idealease president and CEO.
"Idealease offers products and services that allow our customers to keep their commitments to their customers. Our annual Best Practices Meeting and ongoing technical training programs keep our field staff up-to-date on the latest training, technologies and service processes that improve our customers' vehicle uptime and fleet efficiency."
A highlight of the meeting was the launch of the new Idealease "ePM" app. Idealease redesigned its PM process with a focus on a comprehensive, proactive approach to maintaining the entire vehicle including its components such as a lift gate, rear door, refrigeration unit, APU, or any other component that could fail to operate correctly and cause a service disruption in the customer's delivery schedule.
The Idealease 90-day PM inspection interval and new ePM app give real time visibility of PMs to fleet managers through the Idealease Service Portal.
"Our ePM app is part of the ongoing evolution of the Idealease Preventive Maintenance philosophy," says Murphy. "Customers want to know that their PMs are being performed at the prescribed interval so compliance with Preventive Maintenance practices is a significant metric in the leasing industry."