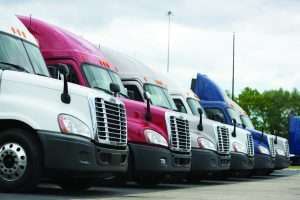 SelecTrucks announces All-Star LineUp, a new promotion that it says provides used truck customers with maximum flexibility to select the discount that works best for their business.
When purchasing an eligible vehicle, SelecTrucks says customers can choose one of the following options:
Down Payment Match
Upgraded Warranty
Tire Upgrade
SelecTrucks knows every used truck customer is unique, and is proud to offer discounts that can be catered to each customer's needs, the company says.
"At SelecTrucks, we are committed to offering the best used truck solutions for our customers," says Bryan Howard, director of Sales and Distribution for SelecTrucks. "All-Star LineUp gives our customers the power to choose the discount that best fits their business."
The company says both owner-operators and fleet customers can see a significant benefit by selecting one of three attractive discounts when they purchase an eligible used truck from any SelecTrucks Center in America:
Down Payment Match: 
SelecTrucks will match 100 percent of a customer's down payment up to $3,000.
Upgraded Warranty: 
SelecTrucks will upgrade a customer's warranty to 12/100 Select Extra Limited Warranty. This coverage adds even more protection to the best warranty in the used truck industry, including additional components like the fuel pump, fuel injectors, turbocharger, EGR valve, and more. This option is available on only Freightliner and Western Star trucks, the company says.
Whether a customer chooses the Warranty Upgrade or not, most trucks sold at SelecTrucks Centers come equipped with the company's industry-leading base warranty. Eligible Freightliner and Western Star trucks will automatically include Select Limited Warranty 12/100 and 60 Day Buyer's Assurance. SelecTrucks says eligible non-DTNA model trucks will automatically include 12/100 FAVOR Limited Warranty and 60 Day Buyer's Assurance.
Tire Upgrade: 
SelecTrucks will provide up to $3,000 towards the purchase of new tires for a customer's truck.
The company says the All-Star LineUp runs through Dec. 31, 2017 and is offered at SelecTrucks Centers across the United States.