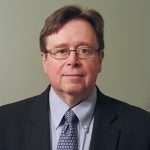 Avery Vise, former editor at Successful Dealer sister publication Commercial Carrier Journal (CCJ), has been hired as vice president, Trucking Research at FTR.
FTR says Vise will be responsible for the content of all trucking-oriented reports, publications, and analyses. He will also work to further develop ongoing relationships with customers, carriers, OEMs, publications, suppliers, and financial groups. A well-known figure in the transportation industry, Vise has closely studied transportation for more than 30 years as an editor, analyst, and researcher, including nearly 20 years dedicated to the trucking industry.
"We are excited to have Avery join the FTR team. We have been looking to grow our internal research capabilities, and to focus on communicating this research more effectively to our customers and the industry. Avery's experience as a transportation analyst and journalist makes him well qualified to lead this initiative," says Eric Starks, chairman and CEO of FTR. "Avery also brings a winning attitude and exceptional leadership skills that will continue to fuel FTR's growth in the marketplace."
Immediately prior to joining FTR, Vise was president of TransComply, a firm that assists trucking operations with regulatory compliance and best practices in freight contracting. He also was principal of TransAdvise, in which he provided research, analysis, and consulting on the North American transportation market, duties that will now be done within FTR. Vise is a frequent speaker at industry events and on SiriusXM.
Previously, he served as executive director of trucking research and analysis for Randall-Reilly from 2011 to 2013 after a decade as the chief editor of CCJ. During his time leading CCJ, Vise also served as the magazine's principal industry analyst with responsibility for tracking economic and financial trends affecting the trucking industry. While at CCJ he led the development of the CCJ Top 250, an industry-leading report that measures the results of the top trucking companies. He also played a central role in the development of Randall-Reilly's RigDig Business Intelligence offering.