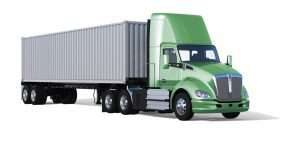 Kenworth will debut its hydrogen fuel cell T680 at the 2018 Consumer Electronics Show (CES) next week in Las Vegas, a show normally reserved for connected technologies and artificial intelligence.
This marks the first time Paccar has exhibited at that show, which draws close to 200,000 visitors. The truck-maker will share the floor with the likes of Amazon, Samsung and Google.
On display will be a prototype zero-emission Kenworth T680 day cab equipped with a hydrogen fuel cell, part of the Zero Emission Cargo Transport Demonstration project. The tractor uses lithium-ion batteries to power a dual-rotor electric motor, driving the rear tandem axle through a 4-speed automated transmission. The batteries, recharged by the fuel cell, support an electric-only range of approximately 30 miles. The on-board fuel – in this case hydrogen – provides sufficient range for a full day in regional haul applications, Kenworth says.
The truck was part of the development project supported by $2.1 million in funding under a larger grant from the U.S. Department of Energy (DOE) Office of Energy Efficiency and Renewable Energy (EERE), with Southern California's South Coast Air Quality Management District (SCAQMD) being the prime applicant.
The T680 on display is one of six prototype T680 day cab zero or near-zero emissions drayage tractors that will transport freight from the Ports of Los Angeles and Long Beach to warehouses and railyards in the Los Angeles basin.