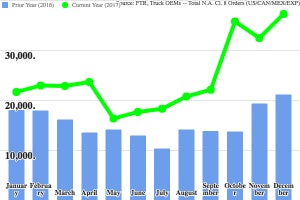 Class 8 truck orders in North America posted strong growth in December, topping 37,000 units for the month. FTR reported 37,200 units ordered and ACT Research reported 37,500, according to preliminary data released this week.
The number of units ordered marks the third consecutive month Class 8 trucks have surpassed 30,000, according to FTR. December activity was 15 percent higher than November and 77 percent higher compared with the same period a year ago. Total units haven't achieved this level since more than 40,000 units were ordered in the fourth quarter of 2014.
Class 8 net orders increased 4,800 units from November, according to ACT research, and the last month of 2017 was the best monthly order intake since December 2014. "December's order volume represents a sequential improvement of 15 percent, and a year-over-year gain of 76 percent," says Kenny Vieth, ACT Research's president and senior analyst.
Distribution of Class 8 orders continues to be inconsistent across OEMs; however, no truck manufacturer is showing any significant weakness in order activity, according to FTR. North American Class 8 orders for the past 12 months totaled 290,000 units, and the market continues to show strength heading into 2018.
"ELD implementation is now in full swing and will continue through the initial enforcement phase of April 1 of this year," says Jonathan Starks, FTR chief operating officer. "This is contributing to the tight capacity environment and is combining with strong freight activity to move freight rates higher. Our forecast continues to call for an increase in production for 2018, but market expectations are varied for 2019."
North America Classes 5-8 net order data indicates the industry booked 58,800 units in December, bringing the full-year net order total to 543,400. December's order volume represents an 11 percent increase over November and a 35 percent improvement from December 2016. Medium duty Classes 5-7 orders were steady, but mixed, in December, according to ACT Research.
"Preliminary data indicate that Classes 5-7 net orders inched higher from November to 21,300 units," says Veith. "However, on a year-over-year basis, orders dropped 3.7 percent. For all of 2017, North American medium duty Classes 5-7 orders totaled 249,700 units."