Paccar's Innovation Center in Silicon Valley was among the stops last week during the National Association of Manufacturers (NAM) fourth annual NAM State of Manufacturing Tour.
During his time in California, NAM President and CEO Jay Timmons joined manufacturers, students, parents, employees and business and community leaders to discuss manufacturing's confident future, the rewarding opportunities the industry offers and the urgent need to build a modern manufacturing workforce across the country.
"Innovation is changing the way our industry looks. But it doesn't change what's at our core: men and women who have lent their talents to build something bigger than themselves, people finding purpose in making things that matter," says Timmons. "Manufacturing in America is a confident industry. We're growing and the American people want to see manufacturing in this country grow even stronger."
"California is a hub for innovation and technology, and it's driving modern manufacturing. The research and development happening in the Golden State is paving the way for our industry's future. We are thrilled to be in California to meet the people transforming modern manufacturing," he adds.
Timmons began the day at NextFlex, a group of companies, academic institutions, nonprofits and government agencies with a mission to advance U.S. manufacturing of flexible hybrid electronics, where he participated in a panel discussion with parents, students and business leaders. He then traveled to Paccar's Innovation Center for a facility tour, a product demonstration and a roundtable discussion about Paccar's role in modern manufacturing and transportation. Paccar's Innovation Center opened in late 2017.
"California is at the intersection of innovation, technology, and modern manufacturing," says Dorothy Rothrock, president of California Manufacturers & Technology Association.  "While our country struggles to fill important jobs in the manufacturing sector, our employers are committed to upskilling the workforce so that as we create new, well-paying jobs in manufacturing, we are also ensuring we have the skilled workforce to fill them."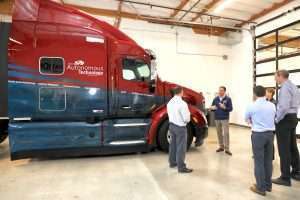 For the past four years, the annual NAM State of Manufacturing Tour has focused the nation's attention on the industry that is the backbone of the American economy, highlighting the more than 12 million men and women who are building our future, the association says. The tour has traveled the country, bringing policy discussions and conversations about the future of work to shop floors, schools, economic clubs, television studios, the White House and more. At a time when the future of work is top of mind for workers and thought leaders alike, this year's tour will spotlight the industry's rapid transformation, while also focusing on manufacturing's well-paying careers, the industry's diverse workforce and the real-world solutions for manufacturing's continued growth, the association says.
"Paccar's new Innovation Center is using advanced technology, research and development to improve the performance of our commercial vehicles," says Paccar Innovation Center General Manager Jake Montero. "Our research experts are leading the truck manufacturing industry in next-generation product development, showcasing the capabilities of modern manufacturing."