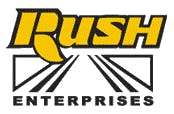 Rush Enterprises has announced several user-friendly enhancements to its RushCare Service Connect communications platform that provides customers with an online, on-demand, 360-degree view of the service process for vehicles in Rush Truck Centers' service departments.
"We developed RushCare Service Connect as part of our commitment to providing customers with convenient access to the information they need as well as the transparent two-way communication they deserve," says Rush Rush, chairman, CEO and president at Rush Enterprises. "These recent enhancements give fleet managers easy, convenient access to the maintenance, warranty and cost tracking information they need most to manage their operations," he adds.
Maintenance tracking – RushCare Service Connect's new maintenance tracking module allows users to easily create custom maintenance tables for every asset type and apply them to any vehicle or trailer in the system. In the maintenance dashboard, customers can monitor scheduled services, update intervals and document work performed. For telematics customers, the system automatically populates vehicle miles and hours for easy management of schedules. Customers can also view reports of maintenance schedules by vehicle type and track vehicles against the predetermined schedule, according to the company.
Warranty tracking – With the new warranty tracking module, RushCare Service Connect users can input and manage vehicle and component warranty information in one place. Customers also can establish reminder notifications of warranties about to expire. "The enhancements made to RushCare Service Connect make it even easier to monitor maintenance and warranty information, receive alerts and schedule service all in one place, when needed," says Brian Mulshine, director of operations technology and Innovation, Rush Enterprises Inc.
Cost tracking and reporting – RushCare Service Connect offers visibility into service costs by manufacturer and vehicle systems group. Customers can view by individual asset or get a holistic view of all the assets in their fleet. Another report provides total cost of service, number of service visits, days out of service, average dwell time and cost per mile per unit. "Our customers tell us that understanding their service costs is a key to the successful management of their fleet," says Mulshine. "The new cost tracking insights available in RushCare Service Connect have made this pivotal information easily accessible to fleet managers in real time," he says.
OEM and service event management system integrations – RushCare Service Connect is fully integrated with customers' own or third-party service event management systems, including Cummins, Peterbilt SmartLINQ, Decisiv, Navistar OnCommand Repair Advocate and Hino. It provides customers and service advisors a history of work done at all Rush Truck Centers and many other out-of-network service providers across the country that have shared history integration with the manufacturers. Further, these integrations allow customers to track recalls and open campaigns.
RushCare Service Connect is fully integrated with the company's own advanced telematics offering, powered by Geotab. With this technology, customers receive real-time vehicle and driver risk alerts. Robust reporting provides operators the data they need to analyze and improve fleet efficiency, according to the company. The system incorporates the TMC Vehicle Maintenance Record Standards (VMRS) with visual indicators for easy identification by users.