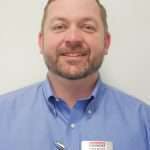 Chris Bisanz has been appointed general manager of Birmingham Freightliner, a Peach State Truck Centers dealership.
Bisanz has more than 18 years of experience in the commercial truck and equipment industry, most recently serving as a new truck sales professional at Peach State Truck Centers in Forest Park, Ga.
"I am very excited about taking on this new role with Peach State Truck Centers here in Birmingham," he says. "I want to get the right team together and let them do their job, and let all potential customers know what our capabilities are here. We want to be the dealer of choice and the employer of choice in the Alabama market."
Peach State Truck Centers says Bisanz will be responsible for the operation of Birmingham Freightliner and its used truck franchise SelecTrucks of Alabama, as well as Alabama Freightliner, a satellite parts and service location in Tuscaloosa.
Before coming to Peach State, Bisanz worked for MHC Kenworth in Georgia for five years, where he completed his tenure as the district manager of Truck Leasing. Bisanz's career has also included positions with People's United Equipment Finance Corp. and Nextran Truck Center.
"We are proud of the work Chris has done so far with Peach State, and look forward to the work he will do at our Birmingham dealership," says Rick Reynolds, president and dealer principal of Peach State Truck Centers. "Chris has a proven track record of being a driver of change in the positions he's held within the industry. His knowledge and experience of commercial truck dealers is vast, and we are fortunate to have him on our team."