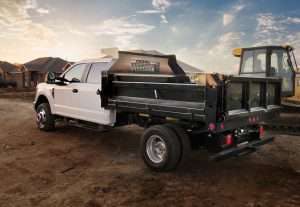 CM Truck Beds introduced a powerful new product, the HD Dump Body, and also announced upgraded hitch ratings. These additions enable CM to offer a more well-rounded product lineup and give distributors more options to serve their customers. The products were announced last week at the Work Truck Show in Indianapolis.
The HD Dump Body marks CM's first complete heavy-duty dump body model. Manufactured on 6 in. structural runners with 3 in. structural cross members, the HD Dump Body is available with 18 in. stationary or fold-down sides, and features 10-gauge steel construction, reinforced tube steel top rails and formed bottoms.
"Our new dump body is an all-steel body manufactured with heavy-duty steel construction and designed with the user in mind," says Joe Lewis, CM Truck Beds vice president. "With customers seeking out more durable, easy-to-use dump bodies, CM is committed to offering products that meet the needs of those customers."
The decking of the HD Dump Body is manufactured from 3/16 in. steel, with a single seam designed to reduce rust and corrosion. The two-point 24 in. tailgate is a practical feature sure to be popular with users, the company says.
"The opening mechanism for the tailgate is located cab-side, giving the operator easy access to dumping and spreading," Lewis says. "Our bolt-on installation kit makes installing this body a breeze, reducing costs and providing a clean installation."
In addition to the release of the HD Dump Body, CM announced its new upgraded B&W heavy-duty hitch ratings: a 30,000-lb rating on the gooseneck hitch, and an 18,500-lb. bumper pull hitch.
"As tow ratings on trucks continue to increase, CM is working hard to ensure that our bodies are able to meet OEM towing standards," Lewis says. "We've partnered with B&W to design hitches that can be trusted with our customers' heaviest loads. Our new B&W hitches are truly best in class."
Unlike many hitches on the market, CM Truck Beds' hitches are thoroughly tested and rated to give users peace of mind when towing trailers with their CM truck beds. The combined ball, frame steel and attachments are tested to ensure ratings that can withstand rigorous strain in the field, according to the company.
"CM's emphasis on the quality of our hitches has long earned us the trust of customers and distributors nationwide," Lewis says. "The additions to our lineup that debuted during the Work Truck Show further cement our reputation as a company that puts the success of our customers first."