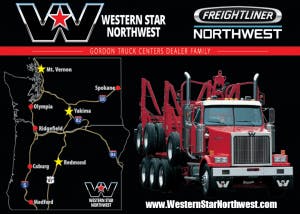 Western Star Northwest (WSNW) has announced that Daimler Trucks North America has granted WSNW authority to add Western Star parts, service and warranty coverage to three existing Freightliner Northwest (FNW) dealership locations in Mount Vernon, Wash., Yakima, Wash., and Redmond, Ore.
WSNW is part of the Gordon Truck Centers dealer family representing Western Star brand OEM equipment. In addition to the recently announced expanded parts, service and warranty locations, WSNW shares dual brand, full-dealership status with FNW in Medford, Ore., Coburg, Ore., Olympia, Wash., and Spokane, Wash., and an exclusive flagship Western Star dealership in Ridgefield, Wash. The Ridgefield location also is an authorized Detroit Diesel distributor.
The GTC Freightliner Northwest dealerships taking on the Western Star parts and service pieces have proactively prepared for the announcement. Technicians are completing the required chassis service training requirements and parts managers are fulfilling additional part-stocking commitments.
"As a dealership family, we couldn't be happier for the opportunity to extend our network of parts and service coverage for our Western Star customers in the Pacific Northwest," says Doug Wakefield, executive vice president, Western Star Northwest. "We look forward to seeing Star customers in these new locations and will endeavor to provide the same high level of service they have come to expect at our other dealerships."