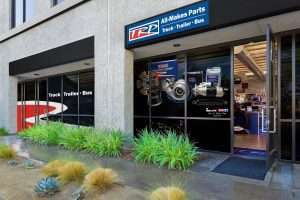 Paccar Parts awarded TRP San Diego as the 2017 Global TRP Store of the Year. TRP is Paccar's global brand of aftermarket replacement parts for all-makes trucks, trailers and buses. Currently, there are 134 TRP Stores open in 31 countries around the world.
TRP San Diego was named 2017 Global TRP Store of the Year as a result of outstanding retail sales growth, investment in e-commerce and commitment to TRP products. TRP San Diego has captured market share by offering a full breadth of all-makes products and targeting new customers, according to an announcement.
"TRP San Diego has exceeded expectations," says David Danforth, Paccar Parts general manager and Paccar vice president. "Their dedicated outside sales team and their extraordinary efforts mirror Paccar Parts' core business values in providing quality products and superior customer service."
TRP San Diego opened in September of 2016 and serves all-makes customers in the Southern California location. Located by the U.S.-Mexico border, TRP San Diego is staffed by industry professionals with extensive experience in the local market. By taking advantage of the surrounding region, TRP San Diego increased sales and awareness of TRP products.
"We are excited to be a part of the growing TRP Store network," says Boyd McConnachie, Inland Kenworth vice president of business development. "This is the fourth TRP Store for our dealer group.
"TRP Stores give us the opportunity to enter a different segment of the market with more focus and commitment. These stores allow us to service local customer demand and further secure our position as a partner in the business," McConnachie says. "We are grateful for the success we have realized to date and are excited about future growth. It is an honor for us to accept this award."