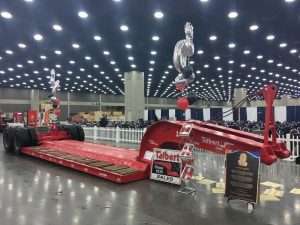 The American Historical Truck Society exhibited the first trailer ever produced by Talbert Manufacturing. The 80-year-old unit was on display during the Mid-America Trucking Show in March in the society's booth, giving attendees an up-close look at the trailer. Troy Geisler, Talbert vice president of sales and marketing, was available to share the history of the trailer and the innovations the company and its founder, Austin Talbert, have pioneered since Talbert's beginnings in 1938, according to an announcement.
"Talbert has been developing heavy-haul solutions for 80 years, and this event was a great way to recognize how Austin and his inventions helped shape the industry," Geisler says.
Austin Talbert started the company as a heavy haul, crane rental and construction equipment business in Lyons, Ill. He quickly became known as a pioneer in heavy-haul trailer safety when he built the first-ever trailer with removable rear suspension, according to the company. The 60-ton fixed gooseneck unit, which was featured at the MATS, revolutionized the way heavy equipment was loaded and unloaded. Users could remove the rear axles, set the trailer's back end on the ground, and maneuver equipment onto the deck of the trailer without having to hoist it over the tires and axles as with previous models. This enhanced safety by leaps and bounds.
"Our mission is to preserve the history of the trucking industry and the innovations that have brought it to where it is today," says Mark Schroyer, American Truck Historical Society vice president. "It's great to see companies like Talbert do the same and honor where this industry came from."
Arnold Braasch, 88, who has held several roles with Talbert since he was 16 and continues to contribute to the company's day-to-day operations, co-founded the American Truck Historical Society and has served as president. Braasch currently is on the society's board of directors. The society often features rare and vintage models of equipment in its booth during the MATS. This is the first time the organization has displayed a company's original heavy-haul trailer.
Since the launch of its first trailer, the Talbert name has become synonymous with many other industry innovations, including removable goosenecks and beam deck units. The company continues Austin Talbert's legacy with its comprehensive approach to trailer design, which ensures every part of Talbert's design and manufacturing process contribute to solving customer's challenges.