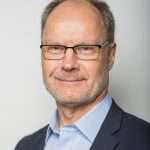 Per Carlsson has been appointed Acting President of Volvo Trucks North America. Currently the company's global Senior Vice President of Strategy & Transformation, Carlsson will on an interim basis succeed Göran Nyberg, who has decided to take a position outside the Volvo Group.
Per Carlsson has held several senior management positions in the Volvo Group over the last 33 years, including serving as president of Volvo Trucks North America from 2008-2009 and as chief operating officer of the Group's North American truck operations from 2010-2011.
Volvo says the recruitment process to identify a new North American president is underway.