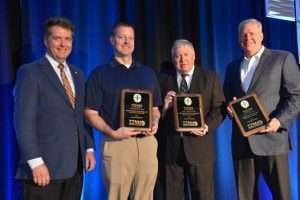 Great Dane announced this week its manufacturing facility in Statesboro, Ga., is the winning trailer manufacturing plant in the large plant category of the 2017 Truck Trailer Manufacturers Association's (TTMA) Plant Safety Contest.
"We are honored to accept this award on behalf of the leadership team and employees at our Statesboro facility," says Dean Engelage, Great Dane president. "We have invested considerable capital and resources to define safety as an essential priority, embed it into our culture and achieve performance excellence throughout the organization. Safety is a core value at Great Dane, and it is the way we must do business."
This is the first time the Statesboro facility has received this award; however, Great Dane has won a total of 38 awards in various categories since the TTMA Plant Safety Contest began in 1971. In addition to the TTMA award, the Statesboro facility also received a Safety Performance Award from the Georgia Association of Manufacturers (GAM) for having zero lost work cases in 2017 and received Great Dane's "Safest Facility" award at the company's internal safety conference for having the best overall safety record of any Great Dane plant in 2017.
"By the end of 2017, Statesboro had an incredible 70 percent improvement on their recordable injury rate (RIR)," Engelage says. "The key to this significant progression has been a top-down approach that reaches and employs first line supervisors. Employees perform safely when leaders actively and consistently demonstrate through decisions and actions that safety is a priority."
The TTMA Plant Safety Contest is a competition among all trailer manufacturers who are members of the organization. The award determinations are based on direct comparison of injury data from the U.S. Occupational Safety and Health Administration's (OSHA) Annual Summary Form 300A.
Great Dane joins BiTA
Great Dane also announced Wednesday it has joined the Blockchain in Transport Alliance (BiTA). BiTA is a coalition of industry leaders dedicated to the development of blockchain standards, education and solutions for the freight industry.
"As a transportation solutions leader, it is Great Dane's mission to stay on the cutting edge of new technology and innovation," says Engelage. "To accomplish this, we collaborate with industry stakeholders in both the transportation industry and other industries with which we share a vested interest in improving the future of goods mobility, which is why we are excited to join BiTA. As a member of this forward-thinking organization, we have the ability to stay up-to-date on the evolving open data standards, while also working to ensure that the framework for how this transformational technology will be utilized by the global transportation industry is inclusive of the trailer and truck body space."
Great Dane will collaborate with the other members of BiTA, including shippers, third party logistics providers, OEMs, vendors and more, to help educate and guide the transportation industry towards the successful implementation and adoption of blockchain technology, the company says.
As the first trailer OEM to join BiTA, Great Dane says it will be able to provide unique insight into the data security and asset management needs of fleets.
"Blockchain technology can help to maintain secure, trackable data, while providing greater visibility into the supply chain to quickly identify issues," Engelage says. "With the largest service network for trailers in the industry, our scale uniquely positions us to help fleets begin to leverage the benefits of blockchains by driving efficiencies across an array of cost buckets, including better transparency and history on an individual trailer basis into maintenance, repairs, parts and warranty terms. We are thrilled to partner with BiTA to learn more about this incredible technology and to play a role in bringing blockchain solutions to the transportation industry."