The trucking industry is a dynamic one. It seems on a daily basis OEMs are announcing their latest truck that can be equipped with cutting-edge technology or a supplier is launching a new or improved component. Even truck buyers who do their best to keep up with the industry might not be aware of everything that's available to them.
A dealership sales associate is in a great position to serve as teacher, while, just as importantly, increasing their sales by informing customers about non-standard vehicle technology when spec'ing vehicles.
When it comes time to order a truck, or fleet of them, customers' knowledge of what's available can be a mixed bag, according to dealerships. Some customers know what's available and they are specific about exactly what they want on their trucks, while others might not be as well-informed about all their options.
"New technology is being released at such a rapid speed, some customers are not fully aware of every potential option available," says Jim Bond, new truck sales manager at Pacific, Wash.-based Freightliner NW. "Commonly overlooked items are the driver assistance programs available in new trucks such as accident avoidance and lane guidance."
Most customers have a good idea of what's available in the market because it's not just dealership sales associates talking to customers, especially to fleets, according to Kevin Biederer, major fleet account manager at Milwaukee-based Kriete Group, which sells Volvo, Mack and Hino.
"You also have companies like Meritor or Bendix going in and talking to these customers, too. Sometimes I will walk into a fleet company and they'll say, 'I've already made up my mind and putting a specific option on my truck,'" Biederer says. "Basically, they'll just tell you part of your spec because an OEM rep has done a really good job of explaining how they can make or save them more money."
In some cases, a customer knows what he wants from a functionality standpoint, but might not be familiar with the nomenclature, option availability or how to use the technology, according to Tim Fyda, dealer principal at Columbus, Ohio-based Fyda Freightliner. Fyda makes sure sales associates educate the customer on how to use various options to their fullest potential.
Fyda adds that many customers don't have an in-depth knowledge of the extended warranties available on various components. This is a critical component of the truck purchase and impacts the real cost of ownership. Fyda representatives explain both standard and extended warranties available that best fit the customers' application and desired timeframe.
"We strive to constantly keep our customers educated and up to date with all of the potential options available to them when buying a new truck," says Trey Mytty, president, Omaha, Neb.-based Truck Center Companies.
"With that said, some customers choose not to embrace new technology. This may be due to taking a wait-and-see approach, negative driver feedback or perception," Mytty says. "Regardless, it is our responsibility to keep our customers abreast of the offerings that are available to them, and then work with them to make the best decision for their needs and wants."
Training to be teachers
In order for sales associates to be able to educate their customers on optional technology, they must be educated first, which happens at the dealership and OEM levels.
"We spend and focus a lot of our sales training on education," says Jerry Kocan, dealer principal at Montgomery, Ala.-based Four Star Freightliner. He says Four Star's staff reviews all new offerings, especially the technological options that can help a customer operate more efficiently.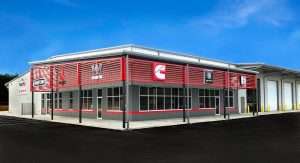 "Additionally, we have reps who specialize in certain vocations and applications … and then they help educate the entire group," Kocan says. "Customers today need sales reps who are more counselor and less salesman. If you can help customers improve their operations, you become part of their business, not just a vendor. That is what we strive for when educating our sales people."
Fyda Freightliner, too, has implemented in-house cross training with its sales associates. For example, a sales associate will become an expert on a system, such as Detroit Assurance Collision Warning, and then he trains the other sales staff. Fyda also has demo trucks at each of its dealerships that are equipped with many of the available options so sales associates and customers see them and get "hands-on" with the new technology, Fyda says. He adds that plant tours, such as with Freightliner, Western Star, Detroit Diesel, Cummins and Eaton, are very beneficial to the dealership's sales associates and customers, alike.
All of the dealerships Successful Dealer interviewed for this piece also attend training programs held by their respective OEMs.
Every year Volvo and Mack dealer representatives will travel for brand-specific training. Just recently, Biederer says he returned from Virginia for two days of intensive training by the OEM. The training can range from general information to the specifics of a certain topic or segment of trucks.
"They cover the latest and greatest technologies; they cover spec content; it's a little bit of everything," he says. "You're learning a lot of the technical information you need to know. After the training, they ask us what other topics we want to learn about and what to focus on at the next meeting."
Fyda says Daimler Trucks North America (DTNA) also does a great job establishing various training programs.
"The most beneficial is a program called Tech Pro and that's where we, salesman and sales managers, travel to some central location and [DTNA] offers training in the classroom and ride-and-drive," he says. "We learn the latest technologies."
Bond adds that DTNA also offers webinars typically two to three times per month and cover existing product improvements, as well as new features and available options.
Mytty says, "We provide our sales team various training mediums to keep them educated on these changes. In-person training provided by DTNA, our own dealer coordinated training and on-line training are all methods we use to keep our team on the cutting edge."
Getting to know you
To fully assist customers with spec'ing vehicles that will most benefit their customers, they must learn about the customers and their business.
"It is essential for our sales professionals to truly understand our customers' businesses, as well as their goals and priorities. Fuel efficiency, safety, up-time, driver recruitment and retention and quality are all major factors when spec'ing a truck," Mytty says. "Each of these areas carry more weight than others when working with various fleets. We must know these priorities and provide the best possible solution."
Fyda says, "God gave us two ears and one mouth for a reason. We emphasize listening to the customer and then look for solutions."
Listening to the customers deepens the relationship with them. "The better background we have with the customers' intended application, the better we can spec the truck with the most appropriate options, he says.
Bond agrees the knowledge gained during discussions with a customer "helps ensure sales personnel understand the customer's vocation, so the right truck is built to satisfy the customer's needs."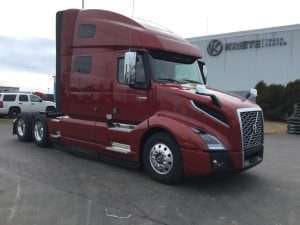 When Biederer, who specializes in fleet sales, is trying to attract new business, one of his first steps is to examine a fleet company's website, which can contain some very specific information that will help him when approaching the company.
"A lot of companies have some kind of mission statement and they usually have their core values in there, whether it's 'on-time deliveries' or 'safety,' touting what their good at," he says. In many instances "they tell you right on the website that safety is important and they include specific options in their spec. Some companies get that detailed just to show 'we're putting the most innovative solutions on our trucks, which help us with both safety and uptime.'"
Option shopping
With sales associates trained on the latest options and learning about their customers and their businesses, what do customers want when spec'ing new vehicles? Following is a sampling of the more popular options.
Fleets want fuel economy and are asking for driver comfort options, such as cruise control and auxiliary heating and cooling units in the sleeper compartments, according to Kocan.
LED headlamps are popular with customers, but come standard on Volvos, according to Biederer. Some customers also have been asking for tire pressure monitoring systems.
Many fleets are opting for disc brakes over drum. "Many [customers] have seen the benefit of disc brakes to their bottom line. It's just so important from the perspective of safety, durability and maintenance," Biederer adds.
Fyda says there are several optional technologies his customers are asking for. Top of the list is Daimler's DT12 automated manual transmission. Also highly requested is the Detroit Assurance Suite of safety features: Collision Warning, Adaptive Cruise Control, Active Brake Assist and Lane Departure Warning. Other popular options are ParkSmart with Optimized Idle, where a driver can have power in the cab without the engine running and the engine starts automatically when the batteries drop to a certain voltage level; Bendix's side object detection system; and WABCO's OnLane lane departure detection system.
Another popular option, according to Fyda, is access to the Detroit Connect Portal, which includes the Virtual Technician remote diagnostic system and other functions, providing customers with real-time insights about their fleet operation.
With the proper training and taking the time to learn about their customers, dealer sales associates can inform their customers of the latest technology options and how to use them, ensuring that, when spec'ing new vehicles, their customers will get exactly what they want.