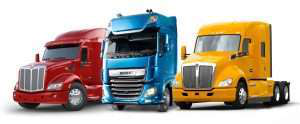 "Paccar reported record quarterly revenues and excellent net income for the first quarter of 2018," says Ron Armstrong, CEO. "Paccar benefited from record quarterly truck deliveries driven by strong market share and robust global truck demand, as well as record quarterly Paccar Parts revenues and pretax profits. I am very proud of our 26,000 employees who have delivered industry-leading products and services to our customers."
Ron Armstrong adds, "Paccar's excellent balance sheet and strong operating cash flow have enabled the company to invest $3.0 billion in new facilities, products and services during the past five years. New Kenworth, Peterbilt and DAF vehicles, the integrated Paccar powertrain, enhanced truck and engine production facilities, new Paccar Parts distribution centers (PDCs) and TRP Stores are contributing to Paccar's long-term growth."
Highlights – First Quarter 2018
Highlights of Paccar's financial results during the first quarter of 2018 include:
Record consolidated net sales and revenues of $5.65 billion.
Net income of $512.1 million.
Record Paccar Parts revenues of $939.9 million and pretax profits of $191.8 million.
Cash generated from operations of $528.5 million.
Research and development expenses of $76.0 million.
Manufacturing cash and marketable securities of $3.47 billion.
Excellent stockholders' equity of $8.57 billion.
"Paccar achieved outstanding financial performance in the first quarter of 2018. Surging truck and aftermarket parts demand, and excellent operational leverage from increased production, delivered Truck, Parts and Other gross margins of 14.8 percent," says Harrie Schippers, Paccar president and chief financial officer. "Quarterly net profits also increased due to the new U.S. tax law. Paccar has averaged $2.4 billion annually in operating cash flow in the last five years. Paccar's recent investments in truck and engine production facilities have provided the capacity for Paccar to continue to grow its market share. Paccar's supplier partners have performed well as industry production has increased."
Global Truck Markets
"First quarter 2018 U.S. and Canada Class 8 truck industry orders were more than double the same period last year," says Gary Moore, Paccar executive vice president. "The truck market reflects the strong economy and excellent freight demand. We've increased our estimate of 2018 Class 8 truck industry retail sales for the U.S. and Canada to a range of 265,000-285,000 vehicles."
DAF's above 16-tonne truck orders increased 41 percent in the first quarter of 2018 compared to the same period last year. "DAF's new $110 million state-of-the-art paint facility in Westerlo, Belgium has expanded DAF's production capacity, enabling DAF to increase market share in this year's stronger truck market," says Preston Feight, DAF president and Paccar vice president. "DAF achieved an excellent 16.4 percent market share in the European above 16-tonne segment in the first quarter of 2018." European truck industry registrations in the above 16-tonne segment are estimated to be in a range of 300,000-320,000 vehicles in 2018.
Paccar has recently increased its investment in South America by expanding its DAF truck range in Brasil and the Andean region, and opening a new PDC in Panama City, Panama. The Brasil above 16-tonne truck market is projected to increase to 40,000-45,000 vehicles in 2018, compared to 32,000 last year. "The expanding truck market and DAF Brasil's higher market share have driven increased production," said Michael Kuester, DAF Brasil president.
Peterbilt Launches New Model 579 UltraLoft
The Peterbilt Model 579 UltraLoft offers customers a high-roof, integrated cab and sleeper that enhances driver comfort and operational efficiency. The UltraLoft's dimensions represent an 18 percent increase in interior space, giving drivers best-in-class living quarters. "The spaciousness of the Peterbilt Model 579 UltraLoft makes it an excellent tractor for long-haul routes, team driving, and driver training," says Jason Skoog, Paccar vice president and Peterbilt general manager. "Customers appreciate the greater fuel efficiency that results from the vehicle's light weight and enhanced aerodynamic design."
Paccar Parts Achieves Record Revenues and Profits
Paccar Parts' 18 PDCs support 2,200 DAF, Kenworth and Peterbilt dealer sales, parts and service locations. Paccar Parts earned record quarterly pretax income of $191.8 million in the first quarter of 2018, which is 27 percent higher than the $150.8 million earned in the same period last year. Paccar Parts generated revenues of $939.9 million in the first quarter of 2018, 19 percent higher than the $786.7 million reported in the same period last year.
"Paccar Parts has achieved eight percent average annual sales growth over the last 15 years," says David Danforth, Paccar vice president and Paccar Parts general manager. "This superb performance has been driven by investments in PDCs, increased dealer locations including TRP Stores, expanded Paccar-branded and TRP product lines, industry-leading fleet services and e-commerce programs, and a growing number of Paccar trucks and engines in operation."
Paccar Parts' sophisticated logistics systems are driving industry-leading efficiency at DAF, Kenworth and Peterbilt dealers, and TRP Stores. Paccar Parts shipped a record 16 million global order lines from its PDCs in 2017. "Paccar Parts' integrated supply chain enables customers to increase their productivity and profitability," says Laura Bloch, Paccar Parts assistant general manager of operations.
Industry Recognition
The Paccar truck factory in Ste-Thérèse, Canada earned a prestigious 2018 Manufacturing Leadership Award from Frost & Sullivan's Manufacturing Leadership Council in recognition of its production technology advancements. Paccar Ste-Thérèse was honored for its innovative use of automated guided vehicle technology to increase assembly capacity, efficiency and safety. "The employees at the Paccar Ste-Thérèse plant are dedicated to building the industry's highest quality medium-duty trucks. Kenworth and Peterbilt customers benefit from our factory innovations and purchased a record number of medium-duty trucks in 2017," says Chakib Toubal-Seghir, Paccar Ste-Thérèse plant manager.
Capital Investments and Research and Development
Paccar's excellent long-term profits, strong balance sheet, and intense focus on quality, technology and productivity have enabled the company to invest $6.1 billion in world-class facilities, innovative products and new technologies during the past decade. "In 2018, capital expenditures of $425-$475 million and research and development expenses of $300-$320 million are targeted for new truck models, integrated powertrains including electric, hybrid and hydrogen fuel cell technologies, enhanced aerodynamic truck designs, advanced driver assistance systems and truck connectivity, and expanded manufacturing and parts distribution facilities," says George West, Paccar vice president.
Paccar has recently invested $70 million in state-of-the-art machining equipment in its Columbus, Mississippi and Eindhoven, Netherlands engine factories. "This equipment increases engine production capacity and supports the growth of Peterbilt, Kenworth and DAF," says Kyle Quinn, Paccar chief technology officer.
Financial Services Companies Achieve Good Results
Paccar Financial Services (PFS) has a portfolio of 187,000 trucks and trailers, with total assets of $13.59 billion. Paccar Leasing, a major full-service truck leasing company in North America and Europe with a fleet of 37,000 vehicles, is included in this segment. PFS' first quarter 2018 pretax income was $67.5 million, 19 percent higher than the $56.8 million earned in the first quarter of 2017. PFS achieved first quarter 2018 revenues of $332.2 million compared to $302.2 million in 2017. "PFS' portfolio performed well during the first quarter of 2018." says Bob Bengston, Paccar senior vice president. "First quarter industry demand for used trucks was strong, with higher prices. Kenworth and Peterbilt truck resale values continue to command a 10-20 percent premium over competitors' trucks." Paccar's strong balance sheet, complemented by its A+/A1 credit ratings, enables PFS to offer competitive retail financing to Kenworth, Peterbilt and DAF dealers and customers in 24 countries on four continents.
Paccar Financial Corp. (PFC) recently opened a new truck remarketing center in Fontana, California, near Los Angeles. The new facility complements PFC's truck remarketing centers in Minooka, Illinois, Salt Lake City, Utah and Spartanburg, South Carolina. Todd Hubbard, PFC president, notes, "PFC continues to enhance its truck remarketing capabilities, reflecting the company's excellent truck leasing and financial products for the popular Peterbilt and Kenworth trucks."
CLICK HERE for additional earnings information.