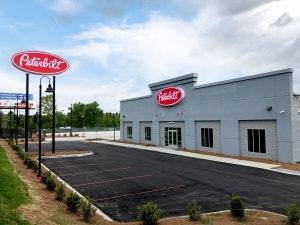 The Larson Group (TLG) announced Monday it will move its Charlotte, N.C., operation to a new facility next week that is more than double the size of its existing one.
Slated for completion on May 7, TLG says the development of its new Charlotte facility was started in response to Peterbilt of Charlotte's unprecedented growth since TLG first acquired the location in 2015. The new building, conveniently off I-85 at 3917 Trailer Dr., is a five-minute drive from the existing location and will provide more customer accessibility to TLG's services and offerings in the Charlotte marketplace.
"We were fortunate to find such a great facility on I-85, so close to the original Peterbilt of Charlotte," says Mike Headley, CFO at TLG. "Providing the most up-to-date technology and space is always a top priority for our customers and employees, so this move will only continue to allow our dealership to provide best-in-class customer service."
The company says the new facility is approximately 62,000 sq.-ft. and sits on 10 acres of land. Roughly 13,000 sq.-ft. of the new facility will be dedicated to a parts warehouse while 2,800 sq.-ft. feet will contain a new parts showroom. It will house 20 truck service bays (including two natural gas bays), an in-ground alignment system, a dedicated triage lane, and a FSX DPF cleaning system.
Finally, TLG says the new location will showcase the dealership's commitment to providing the best in Peterbilt customer service will be on display in the new facility's stylish, contemporary driver's lounge and fully staffed parts call room.
"Our staff must also feel that their workspace is as excellent as the customer service we provide," says Southeast Regional Vice President Randy Kirk. "This new state-of-the-art dealership will certainly lead to an even better experience for our customers."