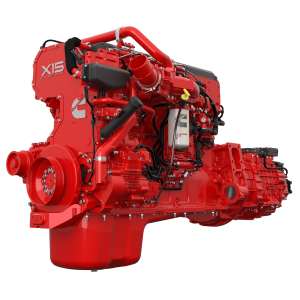 Cummins Integrated Power announced Tuesday its X15 engine paired with the Endurant transmission is now available from Navistar in both the International LoneStar and LT Series trucks.
"As part of our Cummins Integrated Power portfolio, we've strategically paired the X15, which was the number one selling heavy-duty engine in North America in 2017, with the Endurant transmission to offer a low total cost of ownership for our customers while optimizing efficiency and delivering the performance our customers demand," says Brett Merrit, vice president – Cummins On-Highway Engine Business.
When looking across the lifecycle of the powertrain, Cummins Integrated Power says customers will be faced with fewer maintenance events, leading to less time and money spent in the shop, and more time available to focus on their business.  The X15 features a 50,000-mile oil drain interval that can be extended up to 80,000 through the Cummins OilGuard program.  The Endurant transmission boasts a maintenance-free self-adjusting clutch thanks to advanced clutch prognostics. Additionally, the Endurant's 750,000-mile transmission oil drain interval is the longest in the industry while only consuming half the amount of oil as competitive automated transmissions, the company says.
"Cummins knowledge and experience in integrating key powertrain technologies has served our customers well over the years," says Jim Nachtman, International Heavy-Duty Product Marketing Director. "By offering the X15 and Endurant solution from the Cummins Integrated Power portfolio, we know we're providing our customers a solution that will help keep their operating costs low while still delivering the power they need to get their job done."
With deeper integration through the Eaton Cummins joint venture, Cummins Integrated Power says the engine and transmission are able to communicate seamlessly, optimizing both performance and efficiency  of the powertrain, meaning that Cummins Integrated Power solutions will continue to deliver benefits for customers' operations.