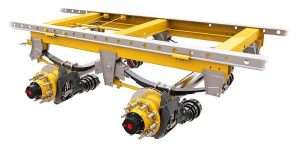 SAF-Holland and XTRA Lease announced that XTRA Lease is installing SAF P89 air disc brakes on more than 6,000 of its over-the-road dry vans and reefers purchased in 2018.
XTRA Lease chose the upgrade over traditional drum brakes to provide a lower maintenance trailer to fleets needing rental or leased trailers. Air disc brakes on semitrailers are gaining momentum industry-wide, according to an announcement. XTRA Lease adopted the brakes for a variety of reasons, including:
Shorter stopping distances than drum brakes
Significantly longer brake pad life
Lower risk for out-of-adjustment violations when compared to drum brakes
50 lb. savings per tandem compared to drum brake systems
As for driving performance, air disc brakes don't overheat like drum brakes, resulting in more consistent and improved braking for drivers.
"A reliable, low-maintenance trailer is something every fleet prizes," says Bill Franz, XTRA Lease president and CEO. "With air disc brakes on our trailers, reliability just got better. Fleets will see a new level of performance, as air disc brakes will produce significantly longer intervals between brake jobs.
"We're also pleased that air disc brakes result in enhanced braking performance, which will satisfy drivers and their companies," Franz adds. "Our customers work hard to maximize productivity. Getting a trailer spec'd to minimize downtime with air disc brakes and maximize productivity with our new free cargo sensors gives them the value they need to stay competitive."
XTRA Lease expects to start receiving dry vans equipped with air disc brakes starting in June.
"SAF-Holland is proud to have been selected by XTRA Lease to provide industry leading SAF air disc brake technology," says Steffen Schewerda, president, Americas, SAF-Holland Inc. "With air disc brake demand growing among fleets looking to improve brake system reliability, our SAF P89 air disc brakes deliver enhanced braking performance along with reduced maintenance and lower cost of ownership."