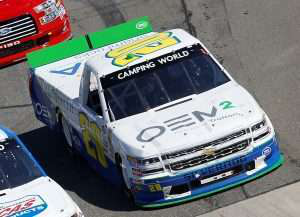 NASCAR Camping World Truck Series (NCWTS) rookie Reid Wilson and his OEM2 Powered by TruNorth team returns to the track this Sunday at Iowa Speedway with Young's Motorsports for the NCWTS M&M's 200.
This will be Wilson's second start of the season for OEM2 Powered by TruNorth. In his series debut at Martinsville Speedway earlier this season, Wilson finished 16th after starting 20th. Wilson will drive the no. 12 Chevrolet Silverado at Iowa, one of three trucks entered in the M&M's 200 from Young's Motorsports.
"I'm excited to not only race at Iowa, but also to be the first driver of the no. 12 for the expanded third team at Young's Motorsports," says Wilson.
Wilson and TrüNorth will once again include the Muscular Dystrophy Association (MDA) on the truck to promote MDA Summer Camp. Wilson volunteers as an MDA Summer Camp counselor and serves on the MDA Muscle Team, a group of professional athletes working to raise awareness and funding for the efforts of the MDA.
"Summer camp is the one week where the kids enjoy being typical kids, doing all the wonderful things you love about camp. And thanks to the hundreds of volunteers and financial supporters across the country, thousands of kids get to experience camp at no cost to the families. Most say it's 'The best week of the year,'" says Wilson, who is at camp this week for MDA Charlotte and will fly directly from camp to Iowa for Saturday's race.