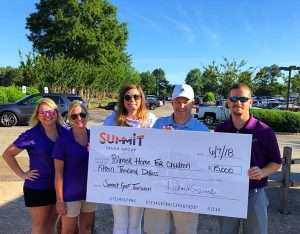 Summit Truck Group of Memphis, Tenn., held its 16th Annual Golf Tournament in Collierville, Tenn., on June 8th. For the second year, Summit offered various sponsorship levels to select suppliers to help fund the tournament, with a percentage of all money raised going to charity, according to an announcement.
This year, the Memphis team selected the Palmer Home for Children as the recipient of funds raised through the golf tournament. A total of $15,000 was raised for this charity and, recently, several Summit staff presented the check to representatives from the Palmer Home for Children.
The Palmer Home has two campuses — one located in Columbus, Miss., and the other in Hernando, Miss. Their mission is to provide superior residential care for children, and they are committed to serving every aspect of those children's lives. Children on each campus are placed in a home usually with seven other children and receive guidance and love there from two caregivers.
Donating to such a great cause would not be possible without the generosity of event sponsors. This year, Summit received an outpouring of response from these suppliers: Bendix, BMO, CDK, Commercial Fleet Finance, Compass, Cummins, Delco Remy, Eaton, Fleetguard, Fleetrite, Fontaine, Isuzu, Meritor, Mission Financial, Mobil Delvac, Morgan Corp., Navistar, Premium 2000, Purkey's Electric, Shepherd Insurance, S&S Sales, Weller Truck Parts, Wells Fargo and Wilro.
Summit's annual golf tournament provides an opportunity for Summit's employees to interact with customers in a more informal setting, as well as for both Summit sales teams and customers to meet with key suppliers. Summit appreciates its customers, employees and supplier partners who helped Summit raise money for the Palmer Home for Children this year.