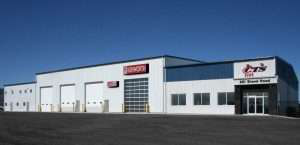 Custom Truck Sales–Estevan has relocated its parts and service dealership in Estevan, Saskatchewan, to provide increased sales and service support in the area. The new Kenworth location at 201 Shand Road is situated on a major thoroughfare near two major highways that facilitate truck routing.
The 9-acre site offers 24/7 secure parking and ample room for easy maneuverability when dropping off and picking up equipment, according to an announcement.
The 21,700 sq.-ft. facility is nearly 40 percent larger than the previous location. A 6,000 sq.-ft. addition to the main building provides a sales office, driver's lounge and 4,000 sq.-ft. parts department with 1,000 sq.-ft. of retail display.
The service department covers 15,500 sq.-ft. and 14 service bays. The shop is especially designed to accommodate the largest bed trucks to truck and trailer combinations serving the oil patch in southeast Saskatchewan.
Hours of operation are 7 a.m.-6 p.m., Monday through Friday. The phone number is 306-637-2121. Custom Truck Sales also operates dealerships in Regina, Saskatoon and Swift Current, Saskatchewan, and Brandon and Winnipeg, Manitoba.
Kenworth PremierCare dealers, such as Custom Truck Sales–Estevan, help fleets and truck operators maximize productivity with expert factory-trained technicians, parts delivery, mobile vehicle repair service and 24-hour emergency roadside assistance in partnership with Kenworth PremierCare, according to the announcement.