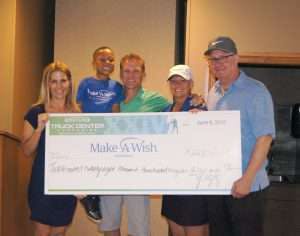 Truck Center Companies recently raised $228,366 for Make-A-Wish Nebraska during its 24th annual golf benefit. Since its debut in 1994, the event has raised more than $2.6 million and granted over 380 wishes.
Brigette Young, president of Make-A-Wish Nebraska, says of the event, "We have the unique ability to transform a child's life during some of their most difficult times, as a wish creates an opportunity for hope and the ability to experience life beyond their illness. The Truck Center Companies Golf Tournament has had an incredible impact on wish kids in Nebraska."
Truck Center Companies is the single largest donor to Make-A-Wish Nebraska and takes great pride in raising money used to bring joy to children diagnosed with life-threatening illnesses, according to the company.
"Improving the quality of life for children who deserve it most is our main goal for this event and it's so rewarding to meet that objective every year," says Trey Mytty, president and CEO, Truck Center Companies. "We can't thank our vendors, customers and business partners enough for their generosity, and we're so proud of what we've accomplished here together."
Notable parts of this year's event included a special message for wish kid Jeremiah Robbins from Disney Cars star Mater, voiced by Larry the Cable Guy, and a hole-in-one shot to win a Jeep Grand Cherokee by Mike Just of Blue Cross Blue Shield of Nebraska.
The live auction raised more than $40,000. A breakdown of key auction items and their highest bid is as follows:
Sculptor artist Gil Bruvel's The Apex, $3,200
American country music artist Craig Morgan's autographed guitar, $3,200
Condo in San Diego for a week, $2,200
Shadow Ridge CC golf outing with Husker legends, $2,150
Winchester lever action rifles circa 1951 and 1952, $6,200
American Texas country music artist Pat Green guitar artwork, $7,000
Husker football VIP experiences, $11,100
Husker helicopter ride, $1,550