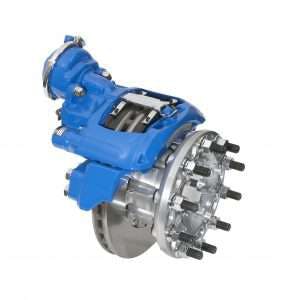 The Bendix ADB22X air disc brake from Bendix Spicer Foundation Brake (BSFB) is now standard equipment on International Truck's HV Series and HX Series models. Built for a full range of severe service applications, the HV and HX lineups consist of the HV507, HV607, HV513 and HV613 models, as well as the HX515, HX520, HX615 and HX620 models, according to an announcement.
"From construction to concrete to crane, vocational trucks are unique in their requirements and challenges," says Scott Burkhart, Bendix vice president, sales, marketing and business development. "The ADB22X is a strong match for severe service trucks. Its lightweight design allows for increased payloads, and the brake's stopping power and 'feel' are difference makers for drivers."
The ADB22X is produced by BSFB, a joint venture between Bendix Commercial Vehicle Systems LLC and Dana Commercial Vehicle Products LLC. Since launching the ADB22X in 2005, BSFB has produced more than 2 million units, reflecting an increasing demand for air disc brakes in the commercial vehicle industry, according to the company.
"Through the DriverFirst design philosophy, our product development team constantly evaluates how we can improve the driver experience," says Mark Stasell, International Truck vice president, vocational truck.
"Offering standard air disc brakes on the HV Series and HX Series is part of our uptime promise to build trucks with the latest safety technologies, that stay on the road and that drivers want to drive," Stasell adds.