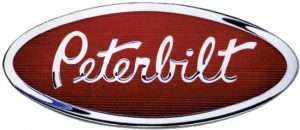 Peterbilt Motors Company has announced new options for Models 567 and 579 trucks; Bendix Wingman Fusion is now standard on the Model 579; and its commitment to innovation.
The two new options for Models 567 and 579 trucks are the alert switch and the pass-through seat. These features were designed with input from driver groups such as the Women in Trucking Association. Both options are available for order this summer.
Located in the sleeper control panel, the alert switch is an alarm that behaves like a panic button on a car, flashing external lights and sounding alarms when activated. This feature ensures that drivers parked at truck stops or other locations are able to alert others in case of an emergency.
"The alert switch is an example of Peterbilt's commitment to driver comfort and safety," says Wesley Slavin, on-highway marketing manager, Peterbilt Motors Company. "This convenient alarm system provides drivers an extra layer of personal security."
The pass-through seat also was introduced in response to customer input and is designed to help drivers when they are packing their vehicles. Located under the passenger seat, this storage cabinet is accessible from both the inside and outside of the cab. The pass-through seat enables drivers to load the cabinet before climbing into the cab, and unload it once they are inside the truck, easing the physical strain when packing the vehicle.
"The pass-through seat is a great convenience feature," says Slavin. "Drivers can easily access their items from both inside and outside of the truck."
Bendix Wingman Fusion standard
Peterbilt also announced Bendix Wingman Fusion as standard on the Model 579. The technology will be standard on all Model 579 trucks built on or after July 1, 2018. Through a combination of camera, radar and braking systems, Bendix Wingman Fusion provides a full set of collision mitigation technologies and driver alerts that greatly enhance driver safety, according to an announcement.
"The Bendix Wingman Fusion system acts like a second set of eyes for the driver," says Slavin. "The Model 579 features the most advanced technology for driver safety and comfort, this system is one of the many advancements drivers can expect to see."
The system is able to perform a variety of actions, including issuing driver alerts, reducing throttle and, if necessary, applying the brakes. The system alerts the driver when cars stop abruptly in the truck's direct lane of travel, advising them to slow down before automatically applying brakes to slow down the truck and mitigate collision. The system additionally alerts drivers when they are traveling over the posted speed limit, first issuing an audible warning signal at 5 mph over, and then alerting and applying a 1-second engine de-throttle to get the driver's attention.
Wingman Fusion further protects drivers by alerting them when they are traveling too close behind another vehicle or unintentionally changing lanes, indicating the driver may be distracted or drowsy. The system includes an alert prioritization feature to alert drivers of only the most crucial information during a mitigation event. This process can reduce driver distraction, allowing them to adapt quickly.
This technology provides information to assist drivers and fleet operators by storing it on board and transmitting video and data via the fleet's telematics system to track and help train drivers, plus reinforce safe on-road driving practices. After sending audible alerts to the driver, the Bendix Wingman Fusion system, via SafetyDirect, can forward information to the fleet operator. When a vehicle consistently travels over the speed limit or engages in dangerous behavior like abrupt starting and stopping, the fleet operator is notified to better assist drivers with information about how to help increase fuel efficiency and safety.
Commitment to Innovation
In an event at the new Paccar Innovation Center, Peterbilt displayed current developmental projects, including a Level 4 autonomous truck and two Class 8 electric trucks.
The Paccar Innovation Center is coordinating next-generation research and identifying emerging technologies that will benefit future vehicle performance. Technology areas of focus include advanced driver assistance systems (ADAS), artificial intelligence, vehicle connectivity and augmented reality. The Innovation Center also is accelerating partnerships in the development of electric and hydrogen fuel cell powertrains, as well as the deployment of big data analytics.
"Purposeful innovation is continuously engrained into every aspect of our business and it means we will be ready to deliver innovative options to our customers and their drivers," says Jason Skoog, general manager, Peterbilt Motors Company. "The Paccar Innovation Center allows Peterbilt to connect with and leverage the advancements being made by technology companies in Silicon Valley. When combined with the talented and experienced Peterbilt employees and worldwide Paccar resources we have a team that will deliver innovative products and services now and into the future."
The facility includes space for vehicle testing and advanced manufacturing capabilities. The Paccar Innovation Center opened in the summer of 2017.
"The Paccar Innovation Center is building strategic relationships with the technology companies in Silicon Valley," says Jake Montero, general manager, Paccar Innovation Center. "This facility cements Paccar's commitment to innovation and highlights the importance of leveraging the advancements being made in a variety of important areas related to the commercial vehicle industry."