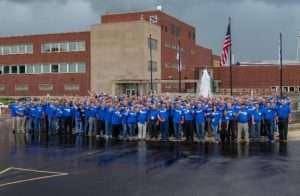 Idealease, Inc., recently welcomed more than 225 commercial truck management and service professionals to its 24th annual Best Practices Meeting in Indianapolis.
Idealease says the attendees represented Navistar and Idealease preferred suppliers. The event's primary sponsor Allison Transmission hosted a tour of its manufacturing plant and world headquarters for attendees, as well as hands-on experience of Allison Transmission products. During the three-day meeting, Idealease says participants attended 17 separate educational sessions on products and maintenance procedures and diagnostics, conducted by Idealease preferred suppliers and corporate.
The annual meeting is a cornerstone event in building the Expertise and Responsiveness of Idealease, the company says.
"Idealease is committed to providing superior vehicle uptime and service efficiency to our customers so they can serve their own customers even better," says Dan Murphy, Idealease president and CEO. "Idealease offers products and services that allow our customers to keep their commitments to their customers. Our annual Best Practices Meeting and ongoing technical training programs keep our field staff up-to-date on the latest training, technologies and service processes that improve our customers' vehicle uptime and fleet efficiency."
Another highlight of the meeting was the launch of the new Rhombus Tire Analytics and Management program by Dana Corporation.
"Tires are the number one cost for Idealease, and the Rhombus Tire Analytics and Management program provides insight into the performance of tires by make, model and application, allowing our locations to control tire costs more accurately," says Dave Helge, vice president, maintenance and safety. "We look forward to the relationship with Dana Corporation and the benefits of this program."