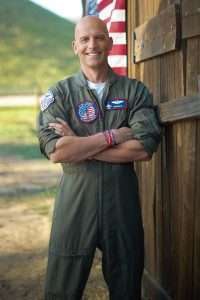 Major Dan Rooney of the U.S. Air Force (USAF) has been announced as the keynote speaker at the 2018 Used Truck Association (UTA) Convention in November.
The UTA board of directors searches for a motivational speaker each year who will prove interesting and informative while providing attendees with valuable insights they can then take home and apply.
"This year's speaker, Major Dan Rooney, will definitely meet that goal," says UTA board member Hal Dickson.
Major Rooney's career path alone should be enough to get all conference attendees eagerly anticipating his presentation, UTA says. Rooney is a fighter pilot with three combat tours served in Iraq. Now in the USAF Reserves, he is also a PGA golf professional and a Fox News contributor.
He is the driving force behind Folds of Honor, a nonprofit scholarship organization that has raised over $100 million dollars to provide educational support to more than 13,000 family members of military personnel who were killed in action or severely disabled. Folds of Honor is based at The Patriot, in Tulsa, Okla., a golf course founded by Major Rooney. Designed by Robert Trent Jones, Jr. the course opened in 2010 and features four distinct topographies, from lowland marsh to high prairie, woodland meadow, and limestone canyons.
Throughout his active duty career, the Major has been recognized for many achievements including the Distinguished Service Medal, the Air Force Commendation Medal, Air Medal, Anti-terrorism Medal, and the Air Expeditionary Medal, UTA says. He is also a two-time recipient of the Top Gun Award. President George W. Bush honored him with the Presidential Volunteer Service Award. Other awards include the Air National Guard's Director's Service Award and the Ellis Island Medal of Honor.
In addition to his storied military career, UTA says Major Rooney was honored for his charitable service to his county by the golf community. He was honored at The Masters Invitational with the William D. Richardson Award for his outstanding contributions to golf, and he also received the first PGA of America's Patriot Award. He has been featured as one of People Magazine's "Heroes of the Year" and ABC World News Tonight's "Persons of the Year." Money Magazine also named him "Hero of the Year."
Rooney is the author of A Patriot's Calling: Living Between Fear and Faith. He is the proud father of five daughters. The UTA says members can anticipate a fascinating presentation from this American hero who has not only valiantly served his country in war, but continues to change the lives of so many back here at home.
"He has a great story, he talks about his family, how he met his wife, his kids, his military service, and what led him to start Folds of Honor," says UTA board member Craig Kendall, who has heard Major Rooney speak.
The UTA is honored to be able to share his presentation with all who attend the upcoming conference, which is scheduled for Nov. 7-10 at Loews Sapphire Falls Resort at Universal, in Orlando, Fla. For more information, and to register for the upcoming convention, please CLICK HERE. UTA adds to be sure to register soon to get the special early bird rate, available until Aug. 31, 2018.