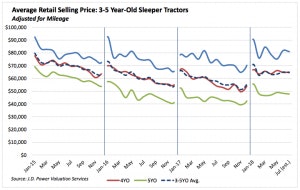 The Class 8 used truck market saw a downtick in auction volumes but a slight rise in the retail channel last month, which helped the market to slight pricing uptick overall in July, J.D. Power reported this week with its Commercial Truck Guidelines market update report.
In the Class 8 auction space, J.D. Power states volume returned to lower levels after a slight uptick in June. Month-over-month, the volume of the three most popular sleeper tractors sold through the two largest nationwide auction companies dropped from 298 to 100, the lowest level since January.
The drop helped pricing with newer used models, with J.D. Power reporting its benchmark model showed the following prices: model year (MY) 2015 trucks averaged $47,000, $5,750 (13.9 percent) higher than June; MY 2014 trucks average $34,250, $3,280 (8.7 percent) lower than June; MY 2013 trucks averaged $30,000, $1,100 (4.0 percent) higher than June; MY 2012 trucks averaged $26,500, $700 (2.7 percent) higher than June; and MY 2011 trucks averaged $18,800, $1,700 (8.3 percent) lower than June.
Year-over-year, the company states trucks four to six years old sold for 22 percent more during the first seven months of 2018. "We still expect activity to increase in the second half of the year, although the timeframe will be later than predicted, mainly due to production constraints."
Volumes were higher in the retail market, where J.D. Power states pricing remained stable.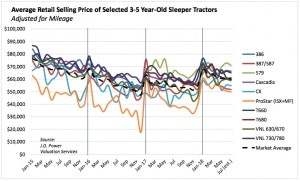 The average retailer Class 8 sleeper sold in June was 83 months old, had 454,541 miles and brought $51,734. Compared to May, this sleeper was two months older, had 2,929 (0.7 percent) fewer miles, and brought $1,328 (2.5 percent) less money. Compared to the same period in 2017, this sleeper was nine months older, had 8,442 (1.9 percent) more miles and brought $3,843 (8 percent) more money.
When looking at the three- to five-year-old truck cohort, J.D. Power states average prices last month were as follows:
MY 2016: $81,858, $6,697 (8.9 percent) higher than May
MY 2015: $64,672, $1,495 (2.3 percent) lower than May
MY 2014: $48,310, $629 (1.3 percent) lower than May
When compared to 2017, late-model trucks sold in the first six months of 2018 brought 5.6 percent more money than the same period last year, J.D. Power states. The company adds depreciation on those same vehicles has averaged "just under 1 percent by month, which compares favorably to the 1.7 percent during the same period last year."
Sales per retail rooftop also ticked upward with the market's growing supply, averaging 4.9 sales across the market. J.D. Power states that result "is still lower than the 5.0 to 5.5 average we had predicted for this point in the year.
"With late-model trucks continuing to bring strong money and dealers actively soliciting inventory to sell, the retail channel has some momentum."
But looking longer term, J.D. Power states new truck order records will eventually negatively impact used vehicle supply, which, when coupled with the moderation to economic growth, is expected to at some point push the used market downward.
The medium-duty market had some bad news last month, too. J.D. Power writes Class 3-4 cabovers average pricing in June was $13,059, which was $1,554 (10.6 percent) lower than May and $4,554 (25.9 percent) lower than June 2017. The conventional market was slightly stronger, with Class 4 trucks averaging $16,681, $1,441 (7.4 percent) lower than May; and Class 6 trucks averaging $21,783, $1,071 (5.2 percent) higher than May. Volume was up in both segments.
Looking ahead, the company writes: "Despite production constraints, fleets have been taking delivery of a higher number of new trucks. As we get in to the second quarter of 2018, their needs will be closer to being met. Roughly at that time, the acceleration in economic conditions should be moderating to some extent, creating more typical supply/demand conditions."
For more information, and to read the entirety of this month's report, please CLICK HERE.