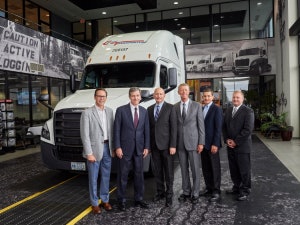 Freightliner Trucks this week marked the delivery of the 50,000th new Cascadia since its start of production in January 2017.
Fuel-efficient components such as the integrated Detroit powertrain, driver experience improvements inside and out, together with the proprietary Detroit Assurance suite of safety systems and vehicle performance telematics from Detroit Connect have helped propel customer acceptance of the new Cascadia, according to an announcement.
"Our goal was to develop a truck with our customers in mind and provide them with the very best in fuel efficiency, safety and driver-focused features," says Richard Howard, senior vice president of sales and marketing at Daimler Trucks North America (DTNA). "We want to sincerely thank all of our customers for the continued trust and partnership, and we could have never reached this significant milestone without them."
By combining the global engineering expertise of parent company Daimler AG, hundreds of hours of testing in DTNA's research and development facilities and millions of miles of on-highway testing, Freightliner designed the new Cascadia, its most technologically advanced and aerodynamic truck.
Claremont, N.C.-based Cargo Transporters recently added 128 new Cascadia trucks to its fleet. This week, North Carolina Governor Roy Cooper visited DTNA's truck manufacturing plant in Cleveland, N.C., to discuss local employment, DTNA's footprint in the state and Cargo Transporters' new Cascadia trucks with executives from both companies. More than 6,500 people work at DTNA facilities in North Carolina and Cargo Transporters employs more than 700 in the state.
"For more than 40 years, we've had the privilege of purchasing trucks from Freightliner. Knowing that we are getting a superior product and at the same time employing hardworking North Carolinians is very important to us," says John R. Pope, chairman, Cargo Transporters. "We have a true partnership with Freightliner Trucks and know we can call upon one another when needed."
The Cargo Transporters team worked closely with the North Carolina-based West Carolina Freightliner dealership to spec the right solution for its interstate and intrastate truckload and drive van delivery business. Cargo Transporters currently operates more than 550 Freightliner trucks produced by the Cleveland Truck Manufacturing Plant.
Notes Dennis Dellinger, president, Cargo Transporters: "The collaborative process with West Carolina Freightliner together with its proven performance made adding new Cascadias to our fleet an easy decision. Our drivers like how the truck is loaded with interior and technological updates that make their time on the road and off more comfortable, and we appreciate the performance and productivity advantages we've already seen with the new Cascadia."