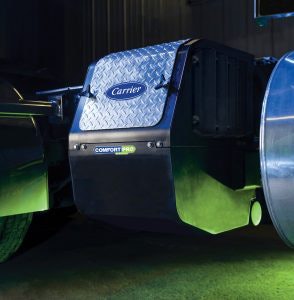 The new ComfortPro electric auxiliary power unit (APU) from Carrier Transicold provides quiet, emissions-free truck cab cooling while delivering one of the longest run-times in a battery-powered APU, according to an announcement. Carrier Transicold is a part of UTC Climate, Controls & Security, a unit of United Technologies Corp.
The ComfortPro electric APU is powered by four Group 31 AGM (absorbent glass mat) batteries that are charged by the truck's alternator. The ComfortPro APU provides 7,500 Btu/h of air conditioning for up to 11 hours. With a simpler design than engine-driven APU systems and only a few moving parts, there is less to service with a ComfortPro electric APU — there is no engine-related maintenance such as oil, fuel or air filter changes.
"Since it is an engineless system, the ComfortPro electric APU provides air conditioning comfort without fuel consumption, idling noise and related emissions," says Ryan Rubly, product manager, alternative power, Carrier Transicold. "The ComfortPro electric APU also uniquely locates the refrigerant compressor outside the truck cab, which contributes to extremely quiet operation."
As an air conditioning system, the ComfortPro electric model offers an economical path to APU ownership and is relatively easy to install. Carrier Transicold offers several options to expand capabilities for heating, power for hotel loads, shore power connectivity and truck engine preheating, enabling users to customize the unit to meet individual needs.
When providing cab climate control and other functions, APUs reduce truck engine idling, helping drivers comply with local and regional anti-idling regulations while saving fuel and reducing wear and tear on their truck engines. The emissions-free performance offered by electric APUs in particular can help drivers and fleets in California, where additional exhaust treatment generally is required for diesel-powered APU applications.
Assembled by Carrier Transicold in Athens, Ga., the ComfortPro electric APUs are installed and supported by Carrier Transicold's dealer network.