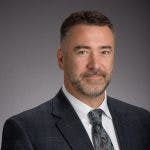 Carolina International Trucks has promoted Jason Hanson to vice president of fixed operations. In his new role, Hanson will be responsible for the service, parts and IT departments. Hanson will help drive company culture, improve customer satisfaction and lead continuous improvement initiatives, according to an announcement.
Hanson has more than 31 years of commercial truck dealership experience. He began his career at Carolina International Trucks in 2000 as a service technician, then progressed through the positions of foreman, service manager and, most recently, director of service.
"Throughout his career, Jason has established strong customer relationships and has demonstrated his ability to lead diverse teams of people," says Kate Hanson, president and chief operating officer at Carolina International Trucks. "He is dedicated to serving the needs of our customers and helping them to move their business forward."
Hanson is a graduate of the American Truck Dealers Truck Dealer Academy and he has earned Navistar's Diamond Club service achievement award multiple times.