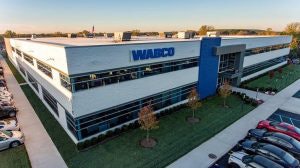 WABCO Holdings Wednesday held a ribbon-cutting ceremony to officially open its new Americas headquarters in Auburn Hills, Mich.
The new $20 million facility at 1220 Pacific Drive features an open, transparent design and includes office space on two floors, as well as WABCO's Customer Experience Center, a vehicle test lab, training center and other amenities. WABCO Chairman and CEO Jacques Esculier and WABCO President, Americas, Jon Morrison hosted the ceremony, and were joined by elected officials and business leaders from the area.
"We're excited to be in this beautiful new facility, which reflects WABCO's leadership in technologies that advance the safety, efficiency and connectivity of commercial vehicles in this region," says Morrison. "The new headquarters creates an environment that is intentionally open and transparent to foster collaboration, inspire innovation and strengthen global connectivity. Not only is this a great place for our employees to come and work every day, but it also acts as a catalyst for developing and advancing innovation to better serve our customers."
WABCO states the 102,000 sq.-ft. building, located approximately 30 miles north of Detroit, brings WABCO's engineering, quality, sales, marketing and corporate functions together in one location. Approximately 200 employees, including those who relocated from WABCO's previous locations in nearby Rochester Hills and Troy, Mich., work in the building. The company plans to add an additional 90 jobs at the site over the next three years.
Morrison notes the technology-enabled facility represents a significant investment and demonstrates WABCO's increased commitment to mobilizing vehicle intelligence in the Americas region by advancing innovations that support the development of autonomous, connected and electric (ACE) commercial vehicles.
Additionally, the Americas headquarters provides an immersive experience for employees, customers and visitors alike. For example, the facility features augmented reality, enabling users to experience situations and learn practically by offering 3-D views of WABCO technologies. The dynamic tool helps deliver simplified and accurate training and interaction, allowing users to examine internal components and understand systems in more detail.
In his comments at the ceremony, Morrison also thanked the Michigan Economic Development Corporation (MEDC), the City of Auburn Hills and others for helping sustain and grow well-paying jobs in Michigan. The State of Michigan and the City of Auburn Hills presented WABCO with plaques for its new facility.