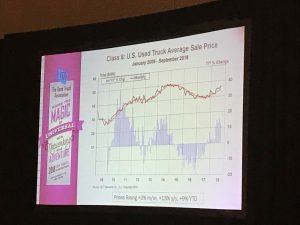 Steady mileage and vehicle age, coupled with an OEM backlog and strong freight climate, has helped push used truck prices up nearly 10 percent thus far in 2018, ACT Research Vice President Steve Tam told the audience during a session at Thursday's Used Truck Association (UTA) Annual Convention in Orlando.
Following a morning panel discussion of the market by truck OEMs and an economic presentation by Donald Broughton of Broughton Capital LLC, Tam concluded Thursday's business sessions with a brief summary of the new and used truck markets and ACT Research's projections for the used space moving forward.
Tam says used truck pricing has been on the rise pretty much since he stepped off the stage at the UTA convention last November. The volume surplus that weakened the market in 2016 and 2017 ended late last year and for many used truck dealers finding quality inventory to move in 2018 has been hard to come by. Tam says used vehicle volumes have risen slightly in recent weeks but demand is higher than it was last year, so thus far price has not been affected. Overall, the market is up 13 percent year-over-year and 9 percent year-to-date. Broken down by model year, Tam says prices in the highest volume cohort (model year 2012 to 2015 tractors) are up 5 percent, meaning older models and nearly-new trade-ins are doing even better.
Tam says ACT Research is anticipating the market should remain steady through year end before prices trend down again midway through 2019. He attributes the projected downturn to new vehicles sales and deliveries and says freight rates (up in 2018 after two flat years prior) could slip again with any economic fluctuations.
Tam adds those factors "will be the bellwether for what's going to happen and when it's going to happen."
Technology fueling economic growth
Broughton was bullish for trucking during his presentation, noting American technological innovation continues to drive efficiencies that are aiding industry and commerce and should keep the economy humming into 2019.
Broughton says the electronic logging device rule that was implemented after last year's convention has been a net positive for trucking because it has forced the adoption of technology into Class 8 tractors. He says technological adoption drives efficiency in nearly all cases, and when efficiency is up, businesses (such as truck fleets) see profits rise and raise their capital investments in kind.
Broughton says that same investment can be seen in other American industries. He says industry powered the country's recovery from the 2008 financial crisis — the first time since 1961 that industry led an economic recovery — and says after a slight dip in 2015 and 2016, industry has returned to the forefront of economic growth, joining consumer confidence that appeared in 2017.
He says the biggest current threat to economic security is a trade war. He says he doesn't believe the current battle between the U.S. and China has yet risen to the level of a war but that doesn't mean it couldn't. Broughton says if the Chinese continue to steal American intellectual property it is unlikely the Trump administration will be willing to negotiate deals with the world's second largest economy like it has with Mexico, Canada and other major U.S. trade partners.